Broken-Down Heroes of the Western Night by Stephen Kozeniewski – Book Review
Broken-Down Heroes of the Western Night by Stephen Kozeniewski – Book Review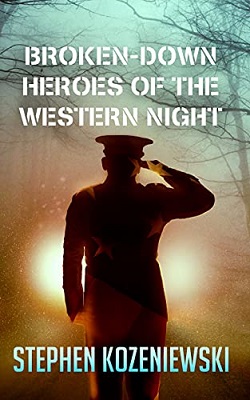 Broken-Down Heroes of the Western Night
Author – Stephen Kozeniewski
Release Date – 17th September 2021
Pages – 315
ISBN 13 – 979-8450236438
Format – ebook, paperback, audio
Star Rating – 4
I received a free copy of this book.
This post contains affiliate links.

Synopsis
Hardcharging army lieutenant Bickham Deth's only desire is to lead soldiers in combat. In the bloody winter of 2006, he expects to finally earn his baptism by fire on the streets of Kabul or Baghdad.
Instead, he finds himself trapped in Oklahoma on funeral detail.
Deth is honored to pay tribute to the veterans of Vietnam and World War II, but his patience is pushed to the breaking point by incompetent morticians, squabbling family members, and a mishap with the color of his socks that threatens to derail his entire military career.
As the "needs of the army" turn a three-day task into a never-ending odyssey, Deth finds solace from his grim work in the gallows humor of his partner, Sergeant Bela Packs. In his fifteen years of service Packs has seen it all, and his war stories are a welcome distraction from the painful task of burying the dead.
As the honors team weaves its way through the American heartland, seeing both the sublime and ugly sides of small town life, Packs unravels the spellbinding tale of the worst Soldier who ever lived…
Stephen Kozeniewski has a number of published horror stories and Broken-Down Heroes of the Western Night appears to be his first published book to vary from that genre. He himself spent a few years in the US military and has no doubt drawn on that time to produce this light but entertaining comedy.
From the outset I liked the general premise of the keen young lieutenant who is ambitious to go to war in Iraq or Afghanistan but then finds he's assigned to funeral duty in Oklahoma. We are treated to a succession of stories of events that may or may not have happened at veterans' funerals.
Alongside these events we learn of the developing relationship between Deth and Packs as they work and travel together, often staying away for several nights at a time. Kozeniewski takes advantage of the often used situation where a battle hardened older non-commissioned sergeant reports to a young inexperienced lieutenant. Alongside their real time events we hear Packs' tales of army life and in particular about Major Brannigan who sounds more dangerous than any battle foe.
As with all careers there are a number of jargon terms and initials which are explained for the reader. There are also a few suggestions that not everything in the US army is as it should be.
We've all seen film of US military funerals in the movies or on the TV news, especially the bugle playing of "Taps" and the precision folding of the Stars and Stripes flag. What I did not realise was that almost every veteran is entitled to such a ceremony presented by at least two members of the forces. Of course, the higher ranks are entitled to more and a lack of buglers leads to a hidden portable HiFi or an electronic insert into the bugle of a miming soldier.
Given that this book is pretty much a series of short narratives I was concerned that it may just fizzle out at the end but Kozeniewski has produced two or three twists which tie all the themes together very nicely.
I found Broken-Down Heroes of the Western Night interesting and entertaining and have awarded it four stars.
---
Purchase Online:
Stephen Kozeniewski
Stephen Kozeniewski lives in Pennsylvania, the birthplace of the modern zombie. During his time as a Field Artillery officer he served for three years in Oklahoma and one in Iraq, where, due to what he assumes was a clerical error, he was awarded the Bronze Star. He is also a classically trained linguist, which sounds much more impressive than saying his bachelor's is in German.
Author Links:
---
The above links are affiliate links. I receive a very small percentage from each item you purchase via these links, which is at no extra cost to you. If you are thinking about purchasing the book, please think about using one of the links. All money received goes back into the blog and helps to keep it running. Thank you.