The Christmas Eve Letter by Elyse Douglas – Book Review
The Christmas Eve Letter by Elyse Douglas – Book Review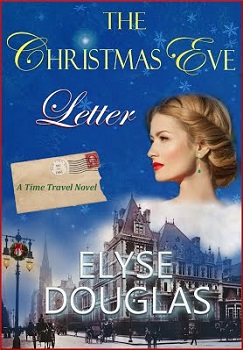 The Christmas Eve Letter
Author – Elyse Douglas
Publisher – CreateSpace
Pages – 420
Release Date – 9th September 2016
ISBN-13 – 978-1537483382
Format – ebook, paperback
Reviewer – Stacey
I received a free copy of this book
Post Contains Affiliate Links

30-year-old Eve Sharland is browsing a Pennsylvania antiques store when she discovers an old brass lantern tucked away on a shelf. She picks it up and sees something behind one of the sooty glass panes. To her surprise, she finds an unopened letter stuck inside.
The letter is postmarked December 24, 1885, and it is addressed to Evelyn Sharland in New York City. Eve gasps and drops the letter. That's her name! The letter is addressed to someone with her name in 1885: Evelyn Sharland.
Eve purchases the lantern and the letter, and returns to her New York City apartment. Later that evening, she opens the letter and reads it, astounded by its contents. She stares at the lantern in wonder and alarm, deeply moved by the story of a tragic romance.
A few days later, following a request in the letter, Eve cautiously lights the lantern. To her utter shock, she finds herself in the past—in 1885 New York City. Eve is thrown into a life far beyond what she could have ever imagined, as she gets involved with one of the richest families in New York City, and meets the handsome Patrick Gantly. She must struggle to survive and return to her own time, even as her destiny is changed forever.

On the last day of her short break, Eve Sharland decides to call at an old antique shop in Pennsylvania. Whilst there, she comes across and old lantern that seems to be drawing her to it. On opening, it she is surprised to see an unopened letter, dated 1885, addressed to Evelyn Sharland – her own full name.
Eager to know what is in the letter Eve purchases the lamp, alongside a gold, heart-shaped watch, and returns home to New York City.
After reading the letter, Eve feels compelled to do what the author had asked the intended recipient, to light the lantern one more time. However the lighting of the lantern has Eve time travelling back to 1885, and she finds herself delirious and cold in Central Park, being offered help by the man that wrote the letter.
Why is Eve in 1885, and how will she ever get back home to the future?
The Christmas Eve Letter is a beautiful, poignant story. It is well written and will have you turning the pages eagerly. Eve is a lovely, smart young woman, especially when she quickly realised that her manners, and the way she talks, needed to alter for her to fit in with her arrival in Victorian New York.
All of the characters are well thought out, and believably written, together with the well-constructed scenery, that has you feeling as if you yourself, have just stepped into the past.
The story is unique and moving. It will hold you long after you turn the last page. A perfect Christmas tale of love and hope.
The Christmas Eve Letter Reviewed by Stacey
Excerpt
At 20th Street, Eve glanced over her shoulder and she saw him! Yes, there he was. He swiftly ducked away toward a parked carriage, where a horse was drinking from a quaint-looking water trough near the curb. Her follower snapped out a newspaper and began to read, or at least he pretended to read.
Eve looked about at the trees and the lovely brownstones. Nearby was the open campus of the Theological Seminary and a home for retired nuns. In this neighborhood, she felt safe enough to approach him. She lowered her chin, fortified herself with breath, pivoted and started toward the man in the dark suit, black overcoat and bowler hat.
When she was ten feet away, he lifted the newspaper higher to cover his face and shoulders. Eve advanced, nerves beating away at her.
"Excuse me, sir."
He didn't stir.
"Sir, excuse me."
The paper slid down slowly, and he straightened to his full height. Eve was startled by him. He was taller than she'd expected, clearly five inches taller than she. He had vivid, intelligent blue eyes, a fine handsome face with a heavy shadow of a beard, a prominent nose, a solid, determined jaw and full lips—fantastic lips—that she had difficulty pulling her eyes away from. He had a broad chest, a muscular neck and good athletic shoulders.
He stared at her as though he were about to smile, and that made him appear affable, cocky and sexy.
"Are you addressing me, madam?" he asked.
Eve detected an accent. Irish? He did look Irish, with his dark, curly hair sticking out from beneath his hat.
Eve swallowed, stepping back a little. "Yes, I am addressing you."
He shrugged and looked resigned. "Okay, then, what can I do for you? Are you lost? Looking for a place of business or a shop?"
She liked his voice. It had a sing-song baritone quality to it. It was a confident voice, a resonant, masculine voice.
Eve stood there, confused now. Was this the same guy she'd seen from the back in Helen Price's parlor?
She stammered. "Well, I… Well I just thought that maybe you…" She stopped, hearing her shaky voice and suddenly feeling foolish.
"Yes, madam? You thought?"
Eve lifted her chin and decided to go for it. "Have you been following me?"
The left corner of his mouth lifted. Was that a grin or a sneer? Eve couldn't tell.
"You are a bold woman," he said.
"Bold or not, that doesn't answer my question."
"And a direct one. My grandfather used to say, 'It is better to be a coward for a minute than dead the rest of your life.'"
"And what does that mean?"
"It means you're not a coward, but maybe you should be sometimes. Walking up to a stranger on a public street to ask him whether he's following you may not be the best course of action."
Eve looked deeply into his eyes. She didn't see a threat. She saw playfulness and she saw attraction.
"Is that a threat?" she asked.
Purchase Links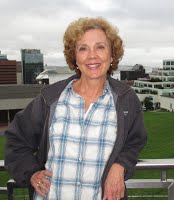 Elyse Douglas is the pen name for the husband and wife writing team of Elyse Parmentier and Douglas Pennington. Elyse's mother was a painter and her father a textile consultant. Elyse began writing poems and short stories at an early age, and graduated with a degree in English Literature.
Douglas grew up in a family of musicians, astrologers and avid readers. His great grandfather lived to be a 134 years old, and was the oldest man in the world when he died in 1922.
Some of Elyse Douglas' novels include: "The Other Side of Summer," "The Christmas Bridge," "Wanting Rita," "The Christmas Diary" and "The Summer Diary." They live in New York City.
Author Links
www.elysedouglas.com
@douglaselyse
Facebook
Pinterest
Goodreads