Rosie's Little Café on the Riviera by Jennifer Bohnet – Book Review
Rosie's Little Café on the Riviera by Jennifer Bohnet – Book Review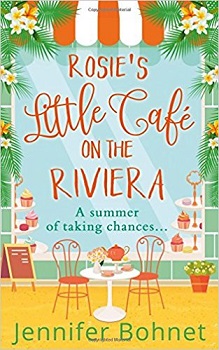 Rosie's Little Café on the Riviera
Author – Jennifer Bohnet
Publisher – HQ
Pages – 384
Release Date – 23rd February 2017
ISBN-13 – 978-0008246075
Format – ebook, paperback
Reviewer – Stacey
I received a free copy of this book
Post Contains Affiliate Links

A summer of taking chances!
Rosie Hewitt's dream of opening a little French café on the Riviera is finally coming true. She's giving up on love and instead chasing her own perfect recipe for happiness…
Only, she never expected the oh-so-sexy, award-winning chef, Sebastian Groc, to set up his restaurant next door – or for his freshly-baked croissants to smell quite so delicious.
But with just a few days until she opens her doors and all her sugar-coated dreams crumbling around her, Rosie isn't prepared to give up without a fight!

On the day of her 30th birthday Rosie realises that her dream of being married and having a family by the age of 30 has not been accomplished, though her second dream of owning her own cafe is still within reach.
Five years later, after saving enough money Rosie takes ownership of her very own cafe, 'Cafe Fleur' right on the beach front in the south of France.
But with a hotel with a two time Michelin star chef next door will her food be enough to compete?
Rosie's Café on the Riviera is a pure chick-lit novel. Told from various perspectives, including, Rosie, Gee Gee the local estate agent and Erica, who is the owner of 'The Cupboard Under the Stairs' shop. These three women all have various problems in their lives which they are trying to deal with as best they can.
The book brings together such wonderful, likeable characters, and I loved that they each had their own unique story to share, and how there were there for one another in times of need. We also have the hottest male of the story, Seb, who has a few surprises up his sleeve.
Although I really did like the story and was avidly engrossed there were a couple of little niggles, such as Rosie forever telling us that she didn't want a relationship, once, possibly twice is enough. There was also the fact that this book is set in France, yet all the characters are English.
If you like chick-lit novels, then I can guarantee you will love Rosie's Little Café on the Riviera. I mean with its beautiful sunny location, characters that you get to know inside and out, and were a pleasure to meet, plus a wonderful story line, what's not to like?
Book Reviewed by Stacey
Purchase Links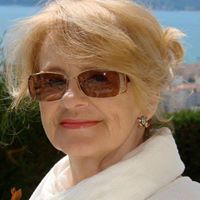 Sixteen years ago Richard and I, with our then dog, 14 year old Holly in a trailer attached to Richard's bike, cycled down through western France via the canal paths, arriving in Antibes in July. With the exception of two fleeting visits back to the UK we have lived in France ever since.
For the past five years we have lived in a small cottage in central Brittany with one large collie dog called Viking, one fat cat known as Little'un and a young tortoiseshell cat called Missy. Oh, and there are various ducks and chickens in the garden, and a large pond with about a hundred fish in!
I have contributed short stories and serials to many of the UK women's magazines including, The People's Friend, Candis, My Weekly, Best, Yours and my stories have been published in Australia, Sweden, South Africa and Ireland.
I also write magazine features and my work has been published in national magazines and newspapers like, The Sunday Times, The Sunday Telegraph, Daily Mail, Daily Telegraph, Home and Country, Devon Life. For over three years I had my own newspaper column in the South Hams Group of Newspapers, that took a wry look at family life.
I am a member of the Romantic Novelists' Association and the Society of Authors.
Author Links
www.jenniferbohnet.com
@jenniewriter
Goodreads
Let us know in the comment section below what you thought of 'Rosie's Little Café on the Riviera'.