Time School #3 by Nikki Young – Book Review
Time School #3 by Nikki Young – Book Review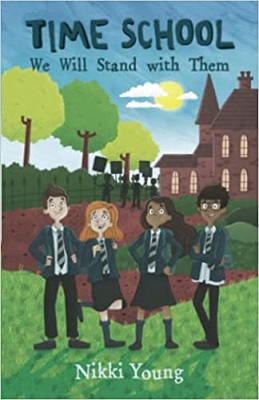 Time School
We Will Stand with Them
Author – Nikki Young
Publisher – Storymakers Press
Pages – 138
Released – 1st November 2021
ISBN-13 – 978-1838468736
Format – paperback
Rating – 5 Stars
I received a free copy of this book.
This post contains affiliate links.


Synopsis
Ash thinks he knows everything about his dad's background as an immigrant from Uganda in the 1970s, but he doesn't really appreciate what his father went through until he experiences it himself.
That's the beauty of time-travel. And for friends Ash, Jess, Nadia and Tomma that's precisely what they get to do.
Ever since they started at Hickley School, they've been momentarily travelling back in time by magical train to a Hickley town and school they recognise, but in an era they don't. This time, it's Ash's turn, and it's back to 1973 for an unexpected meet with Mr Mundair senior, his brother and their two friends, as they try to fit in as young Asian immigrants in a predominantly white area.
Ash Mundair is sick of his dad telling him how lucky he is and how grateful he should be to go to a good school and be able to get an education. Despite how hard Ash works it seems it's never enough for his dad, and Ash begins to wonder why he should bother at all. He doesn't feel he will ever understand what it was like for his dad to have to leave his home in Uganda to come and live in England during the 1970s. That is, until a trip back to that time unveils the true difficulties that people like Ash's dad faced and what it was really like to be an ethnic minority at such a tense time.
Time School: We Will Stand with Them is the third book in the Time School series after Time School: We Will Remember Them and Time School: We Will Honour Them. The series is about a group of friends who have just started high school who catch the train together to school and every now and then the train takes them to the past so that they can learn something about their families from history.
In the third book, Ash Mundair is having a few issues with his dad who doesn't believe his son is working hard enough at school as he wants him to be getting As not Bs in tests. Ash is fed up with his father throwing the past in his face and telling him how hard he had it having to flee Uganda in the 1970s and make a new life in England where some people made those who fled Uganda unwelcome.
Ash and his friends Jess, Nadia, and Tomma arrive in the early 1970s to witness firsthand how the newcomers were treated, especially how some teachers at Hickley School, their school, were racially abusive to the new pupils. Through his journey into the past, Ash comes to understand his father better which helps their relationship in the present.
What I love about this series is how children get to learn about events in the past without them realising it via intriguing and adventurous stories. This book is about the issues in Uganda which began in 1972 when the President gave all those who were of Asian descent and living in Uganda 90 days to leave the country after they had helped build the railways and make the country prosperous. Many fled to the UK where they were welcomed by some and looked down on by others.
Time School: We Will Stand with Them is a hard-hitting book that delves into the past and puts you right there with the children. It is a thought-provoking and gutsy middle-grade story and I believe every school should have this series in their libraries as they will definitely educate the readers and provide them with hours of entertainment too.
Purchase Online From:
---
What did you think of 'Time School #3'? Share your thoughts in the comment section below!
---
The above links are affiliate links. I receive a very small percentage from each item you purchase via these links, which is at no extra cost to you. If you are thinking about purchasing the book, please think about using one of the links. All money received goes back into the blog and helps to keep it running. Thank you.
Like us on Facebook – Tweet us on Twitter – Pin us on Pinterest – Join us on Instagram