Octopants: The Missing Pirate Pants by Suzy Senior – Book Review
Octopants: The Missing Pirate Pants by Suzy Senior – Book Review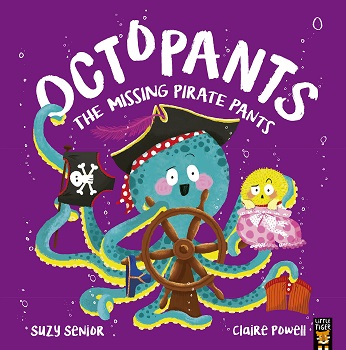 Octopants: The Missing Pirate Pants
Author – Suzy Senior
Illustrator – Claire Powell
Publisher – Little Tiger Press
Release Date – 3rd February 2022
Pages – 32
ISBN 13 – 978-1801041652
Format – Paperback
Star Rating – 5
I received a free copy of this book.
This post contains affiliate links.

Synopsis
The long-awaited second book in the best-selling Octopants series from the hilarious and hugely talented Suzy Senior and Claire Powell!
Pufferfish has lost his pants!
Where COULD those undies be?
Ahoy there, Pirate! Step aboard – Let's join the search and see!
Join Octopants, Pufferfish and their underwater pals on a pant-tastic adventure filled with pirates, parties and plenty of PANTS!
Octopants: The Missing Pirate Pants is a fun and amusing children's picture book featuring Octopants the Octopus and his fishy friends.
Told in a rhyming style the story features Pufferfish as he tries to find his pirate pants with the help of Octopants and Turtle. They look everywhere, except for one scary place, the wreck, an old pirate ship sat on the bottom of the sea. Could the pants be there?
I loved Octopants, the first book in the series, and this second book is no different. It features the same characters on a new mission, this time to locate Pufferfish's pants. The story is hilarious and I can see children giggling away at it, as well as being in awe at the amazing full-page illustrations that adorn each page and bring the story to life.
It is a quick read and would make the perfect bedtime story.
---
Purchase Online:
Suzy Senior

Suzy Senior lives and works at the top of a huge hill in Yorkshire. She lives with her husband, two lovely children, two guinea pigs, a hamster, some fish, a grumpy kestrel, twelve whippets and a family of cheeky ferrets.
She has worked in publishing for what seems like ages, and still really loves it. In her spare time she likes to write books for children, but usually has to clean out the guinea pigs instead.*
*That's all true, except for the bit about the ferrets, the kestrel and the whippets. To be honest, it's mainly just fish and guinea pigs. But that's plenty, really.
Author Links:
---
Share your thoughts on Octopants: The Missing Pirate Pants in the comment section below!
---
The above links are affiliate links. I receive a very small percentage from each item you purchase via these links, which is at no extra cost to you. If you are thinking about purchasing the book, please think about using one of the links. All money received goes back into the blog and helps to keep it running. Thank you.
Like us on Facebook – Tweet us on Twitter – Pin us on Pinterest – Join us on Instagram