Above and Below: Sea and Shore by Harriet Evans – Book Review
Above and Below: Sea and Shore by Harriet Evans – Book Review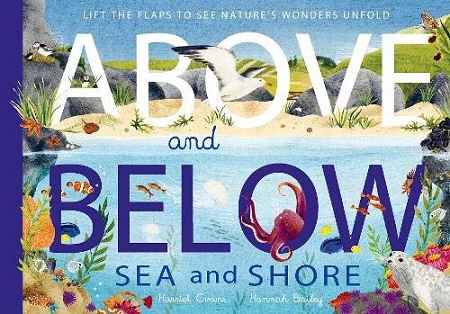 Above and Below: Sea and Shore
Authors – Harriet Evans
Illustrator – Hannah Bailey
Publisher – 360 Degrees
Pages – 22
Released – 4th March 2021
ISBN-13 – 978-1838911782
Format – hardcover
Rating – 5 Stars
I received a free copy of this book.
This post contains affiliate links.


Synopsis
What wonders wait beneath the waves? Dive in and find out with this beautiful split-page book that celebrates ocean habitats from the sandy shallows to the darkest depths.
Turn the page to discover the incredible creatures and plants that lie below the ocean blue. With magnificent mangrove forests, colourful coral reefs and exciting estuaries, there are so many water worlds to explore.
Above and Below: Sea and Shore is a children's factual book about the sea and the surrounding area. It contains eight sections including:-
– Coastline
– Kelp Forest
– Polar Ocean/Antarctic/Arctic
– Estuary
– Tropical Shore
– Coral Reef
– Mangrove
– Deep Sea
Each section is one double-page and one extra flap to turn. The book contains lots of information starting with facts on the titled section and then the plants and animals that live in that section.
I love the way the book is set out and the easy-to-read and understand snippets of information alongside amazing illustrations that adorn each page. My favourite section has to be the Deep Sea with its unusual creatures that lurk in the dark including Vampire Squid, Giant Tube Worm, and 'Casper' Octopus.
This is a fun, informative, and educational book. I was intrigued and engaged the whole way through. It is a book that children can dip into when they need to for something like a school project or just to learn something new and be amazed. If you have a child (or know one) that craves knowledge then this would be the perfect book for them.
Purchase Online From:
---
What did you think of 'Above and Below: Sea and Shore'? Share your thoughts in the comment section below!
---
The above links are affiliate links. I receive a very small percentage from each item you purchase via these link, which is at no extra cost to you. If you are thinking about purchasing the book, please think about using one of the links. All money received goes back into the blog and helps to keep it running. Thank you.
Like us on Facebook – Tweet us on Twitter – Pin us on Pinterest – Join us on Instagram