Merve the Forgetful Mouse by June Linscott – Book Review
Merve the Forgetful Mouse by June Linscott – Book Review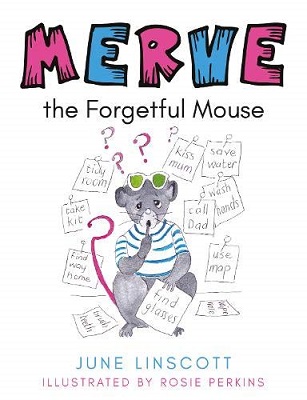 Merve the Forgetful Mouse
Author – June Linscott
Publisher – Matador
Pages – 32
Released – 7th July 2020
ISBN-13 – 978-1838594497
Format – ebook, paperback
Review by – Stacey
Rating – 4 Stars
I received a free copy of this book.
This post contains affiliate links.


Merve, the mouse, is very forgetful.
He loves to run about the house that he lives in, but it takes him ages to find his way back to his nest in the attic.
Will his Mummy and Daddy ever find him if he gets lost?
Will he frighten Miss Sillyfog, the owner of the house?
Will he get caught by Marmite the dog or Marmalade the cat?
What can he do to find his way back safely?

Merve the Mouse lives in the attic of a house with his mum and dad. Downstairs lives Miss Sillyfog and her cat Marmalade and dog Marmite.
Merve likes to explore but he also can't remember how to get back to the attic, meaning that the resident and her animals nearly capture him. He needs to come up with a way to remember how to get back as this time was a close call.
Merve the Mouse is an exciting young children's book that is told in a rhyming style. It has fun, colourful illustrations that are felt-tip drawn. When Merve gets scared he rolls himself up into a ball rather than running away which nearly has bad consequences for him, that is until his mum comes to save him. I like that Merve comes across as vulnerable rather than a tough, heroic mouse as not everyone is tough and heroic some are not so confident.
I think the book is rather cute and amusing. It is very short and there's not a lot of text which would be good for a new reader or one learning to read, plus there are plenty of repetitive words. The illustrations help with the text too as they showcase what is happening at each stage.
Book Reviewer – Stacey
---
Purchase online from:
---
What did you think of Merve the Forgetful Mouse? Share your thoughts in the comment section below!
---
The above links are affiliate links. I receive a very small percentage from each item you purchase via these link, which is at no extra cost to you. If you are thinking about purchasing the book, please think about using one of the links. All money received goes back into the blog and helps to keep it running. Thank you.
Like us on Facebook – Tweet us on Twitter – Pin us on Pinterest