The Inheritance Games by Jennifer Lynn Barnes – Book Review
The Inheritance Games by Jennifer Lynn Barnes – Book Review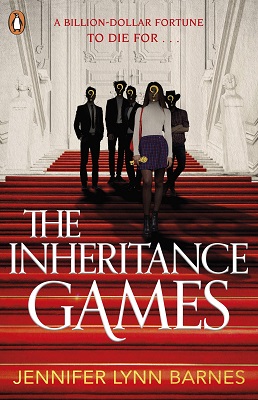 The Inheritance Games
Author – Jennifer Lynn Barnes
Publisher – Penguin
Pages – 384
Released – 3rd September 2020
ISBN-13 – 978-0241476178
Format – ebook, paperback, audio
Review by – Stacey
Rating – 5 Stars
I received a free copy of this book.
This post contains affiliate links.


She came from nothing.
Avery has a plan: keep her head down, work hard for a better future. Then an eccentric billionaire dies, leaving her almost his entire fortune. And no one, least of all Avery, knows why.
They had everything.
Now she must move into the mansion she's inherited. It's filled with secrets and codes, and the old man's surviving relatives – a family hell-bent on discovering why Avery got 'their' money.
Now there's only one rule: winner takes all.
Soon she is caught in a deadly game that everyone in this strange family is playing. But just how far will they go to keep their fortune?

Teenager Avery Grambs has been living with her older half-sister Libby since her mum died, that was until she stormed out and decided she would rather sleep in her car than put up with her sister's obnoxious on-off boyfriend Drake.
One day she receives an invitation to the will reading of Billionaire Tobias Hawthorne, whom she has never heard off before but has been left something, she doesn't have a clue what and being underage her sister has to attend the will reading with her at the exquisite Hawthorne house estate.
The Hawthorne family including his two daughter and his grandsons plus staff are already in attendance and they are all wondering who the stranger is and what she has been left, no-one expected it to be Tobia's house, businesses, charity foundations, and nearly all his money, especially not Avery. There is one catch though, she has to live in the house for a year and the family is to stay too.
Some of them are not bothered by the news, others see her as a gold-digger and will stop at nothing to get the fortune for themselves. With everyone under one roof, can Avery discover why she was chosen, keep her new-found wealth, and stay alive?
The Inheritance Games is a YA mystery book that had me hooked from the very beginning, even if I did find the writing a little on the young side as I began my journey with Avery and the Hawthornes.
The plot is not something I have read before, it felt refreshing, even to Avery's best friend Max who she communicates via phone calls only and is always in trouble with her mother and refuses to swear so we are hit with lots of hilarious alternative swear words throughout their chats.
Avery is a head-smart young girl who wants to know why she has been left all of Tobia's fortune and properties. What makes her special to him? It will take plenty of searching and puzzling to even begin to understand why and for that she needs the help of the Hawthorne grandsons who are used to working out puzzles and riddles.
Grandson's Nash, who doesn't want the money and comes and goes, Alexander (Xander), who is more interested in stuffing his face than helping. Grayson, who distrusts Avery and is searching for ways to discredit her and Jameson, who is the puzzler in the family, as well as the family drunk. He likes Avery and is hell-bent on the two working out the last puzzle his grandfather has left for them. But it will take all of them to get to the truth.
This is the first book in a planned series and whilst it ends with a knowledge of where book two is heading, it isn't a cliff-hanger, in fact, I had worked out this part already a good few chapters back.
Overall, it is a fascinating read that contains characters you want to get to know, a plot that has you puzzling along with, and a billionaires estate you wish you were at. I just didn't want to put this book down and now I can not wait for book two.
Book Reviewer – Stacey
---
Purchase online from:
---
About the Author

Jennifer Lynn Barnes (who mostly goes by Jen) is the author of more than a dozen critically acclaimed young adult novels. She has advanced degrees in psychology, psychiatry, and cognitive science, including graduate degrees from Cambridge University, where she was a Fulbright Scholar, and Yale University, where she received her Ph.D. in 2012.
Jen wrote her first published novel when she was nineteen-years-old and sold her first five books while still in college. In additional to writing YA novels, Jen has also written original pilot scripts for television networks like USA and MTV, and she is one of the world's leading experts on the psychology of fandom and the cognitive science of fiction and the imagination more broadly.
Jen is an Associate Professor at the University of Oklahoma, where she holds a dual appointment in Psychology and Professional Writing.



---
What did you think of The Inheritance Games? Share your thoughts in the comment section below!
---
The above links are affiliate links. I receive a very small percentage from each item you purchase via these link, which is at no extra cost to you. If you are thinking about purchasing the book, please think about using one of the links. All money received goes back into the blog and helps to keep it running. Thank you.
Like us on Facebook – Tweet us on Twitter – Pin us on Pinterest