The Scavenger by Aidan Lucid – Book Review
The Scavenger by Aidan Lucid – Book Review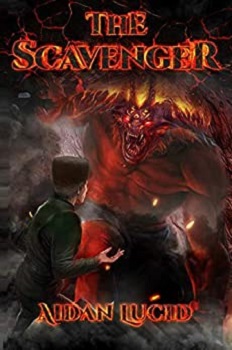 The Scavenger
Author – Aidan Lucid
Pages – 148
Released – 10th January 2021
ISBN-13 – 979-8593579034
Format – ebook, paperback, hardcover
Rating – 3.5 Stars
I received a free copy of this book.
This post contains affiliate links.


Synopsis
Three Separate Wishes. One Twisted Nightmare.
Just like Hopps Town, their humble home, Jessica Barlow, Jared Duval, and Adrian Cole are fostering dark secrets. Plagued by loss, cruelty and physical abuse, these friends are kindred spirits, bound by anguish and elusive dreams. They're soon to find the key to change, but any happy future will demand they face a haunting past and brave a lethal present.
Deep in the forest on the outskirts of town, aging and nearly forgotten, there stands a well from another time. Happening upon this relic, Adrian goads his companions to join him in making a wish. Soon, difficult though it is to admit, their luckless lives do seem to shift. The only problem is, the changes aren't at all as they'd imagined. Seemingly, they've only left the pan to face the fire.
Should they hope to both survive and thrive, they'll need to pool their wits and draw on mystic inner-power. Solving Hopps Town's greatest mystery now means life or death.
I was in the mood for a quick read and The Scavenger gave me just that. Lucid sets the story in a smallish town and we see the story through the eyes of three teens.
I have to say, the author can write a younger voice very well. The reader feels their situation thoroughly – high school is a difficult place to be. The characters faced trouble at school and home. These student wish for things to be different and for their troubles to go away.
We've heard many times: be careful what you wish for. If you've read The Monkey's Paw by W.W. Jacobs, you may guess what happens next.
The action was very well done. I felt a steady building of tension and doom. Everything slowly led up to tragic events.
My rating of 3.5 stars is due the overall theme meandering. The main focus of the story seemed to be a warning fable, then a piece on friends and family, was it a mystery, a tale about God saving all… ? I was confused.
That's not to say I disliked it. It felt a bit scattered.
Purchase Online From:
---
What did you think of 'The Scavenger'? Share your thoughts in the comment section below!
---
The above links are affiliate links. I receive a very small percentage from each item you purchase via these link, which is at no extra cost to you. If you are thinking about purchasing the book, please think about using one of the links. All money received goes back into the blog and helps to keep it running. Thank you.
Like us on Facebook – Tweet us on Twitter – Pin us on Pinterest