Heaven In A Wild Flower by John Broughton – Book Review
Heaven In A Wild Flower by John Broughton – Book Review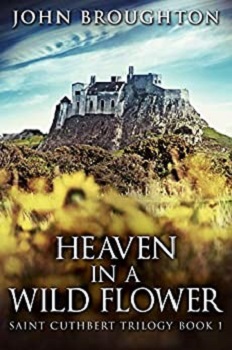 Heaven In A Wild Flower
Saint Cuthbert Trilogy Book One
Author – John Broughton
Pages – 246
Released – 16th July 2020
ISBN-13 – 979-8666961315
Format – ebook, paperback, hardcover
Rating – 5 Stars
I received a free copy of this book.
This post contains affiliate links.


Synopsis
Aella is a leatherworker living in 7th century Northumbria. After surviving the war against the Picts, the king becomes his godfather, and Aella befriends Bishop Cuthbert.
Aware of Aella's skills, the monks of Lindisfarne commission him to make the cover of the Gospel of St. John as a gift for Cuthbert. Impressed by the masterpiece, Ecgfrith's successor, King Aldfrith, sends Aella to Ireland to learn to read and write.
Soon, Aella befriends a fellow student, learns to illuminate manuscripts, and falls in love. But can he achieve his dreams, and wed the love of his life?
Heaven In A Wild Flower is a delightful historical read, starting in 687AD with a young Aella a leatherworker, and his Friend Edwy being called up for war by Lord Berhtred to fight the Picts.
The story takes us through Aella's life from him, meeting king Ecgfrith, being Baptised, getting to know Bishop Cuthbert and the Monks, and all the opportunities that followed.
This is a great historic story with excellent use of language and all the characters described in great depth, making it easy to visualise them. The lead character Aella is a young man who is genuine, kind, and loyal. We meet his best friend Edwy and the brother Nerian. He also becomes friends with Lugaid a son of a chieftain in Ireland and sister Sherlaith. I enjoyed hearing of the kings and monks, and I felt like I got to know these characters well.
The storyline is very interesting and it held my attention throughout and was a definite page-turner. I was actually sad when it finished, I was left wanting to know what next! It included so much, close family life in those times to heroism, historic life, friendship, and love.
This is not a genre that I normally read but this book has really changed that for me and I now want to read more within it.
Well done Author John Broughton for an excellent read, I look forward to reading more from you and to recommending this book to family and friends.
Purchase Online From:
---
What did you think of 'Heaven In A Wild Flower'? Share your thoughts in the comment section below!
---
The above links are affiliate links. I receive a very small percentage from each item you purchase via these link, which is at no extra cost to you. If you are thinking about purchasing the book, please think about using one of the links. All money received goes back into the blog and helps to keep it running. Thank you.
Like us on Facebook – Tweet us on Twitter – Pin us on Pinterest