Marry Your Billionaire by C.J. Anaya – Book Review
Marry Your Billionaire by C.J. Anaya – Book Review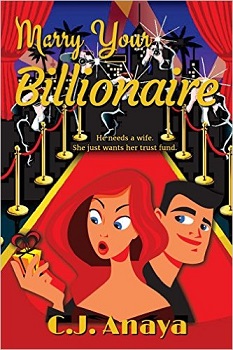 Marry Your Billionaire


A Modern Cinderella
Author – C.J. Anaya
Pages – 365
Release Date – 7th March 2016
ISBN-13 – 978-1519625816
Format – ebook, paperback
Reviewer – Kerstin
I received a free copy of this book
Post Contains Affiliate Links

Six years ago, Midge Knightly walked away from her trust fund, her Hollywood producer father, and the expectation that she would join the family business. Avoiding handsome playboys with hidden agendas was just an added bonus. Now one semester shy of graduation, she is shocked to discover her scholarship has lost its funding.
Her estranged father is having problems of his own. A contestant on his latest reality TV series has cancelled two months before shooting. His solution? Midge gets her trust fund back if she stands in as a potential marriage candidate for the dating series Marry Your Billionaire.
Twenty women competing for one arrogant guy. Not Midge's cup of tea. Agreeing to this proposition sucks her back into the world she happily broke ties from, but no trust fund equals no college degree.
Brody Prescott, CEO and owner of an online dating company, has recently been pegged as a heartless playboy-among other things-by a disgruntled female after a disappointing date. His solution? Become the first bachelor on Marry Your Billionaire and hope that one of the contestants holds some potential.
So what is he supposed to do when the woman who intrigues him the most wants to be eliminated? Marry Your Billionaire is a fun, romantic romp set against the backdrop of reality TV. Throw on your PJ's, grab some chocolate and popcorn, and settle in for an entertaining love story.

This book from C.J. Anaya tells us the story of Madelyn Knightley, the daughter of a famous director of Reality TV-Shows in Hollywood. Midge, as she is called from her friends, left home six years ago after a fight with her Dad, Corbin Knightley, because she didn't want to follow into her father's footsteps and take over the family business. Until then, Corbin has taken Midge with him on his business trips all over the world in order to show her how to become a director herself. But Midge wanted to become a writer and therefore went to College.
Midge's Mum had been a Model, but paid the price of the show business and spent most of Midge's childhood in Rehab. Both the relationships with her mother, and her father were quite difficult for Midge and she seemed to have had a lonely childhood.
Midge and her father meet again after her scholarship has run out because he needs her as a substitute for another contestant in his current show "Marry your Billionaire". After he promises her access to her trust fund to pay for college if she helps him, Midge hesitantly agrees.
On the same day, right before the meeting with her father, she gets to know Brody Prescott, a successful entrepreneur of an Online-Dating Company. The whole encounter is pure coincidence, but Brody is intrigued by Midge and her not being impressed in the slightest by whom she is advising, and showing no interest at all in his money.
Lucky Brody, asked to be the Billionaire on Knightley's new show and is all over the idea after he gets to know that Midge will be on the show. He made it his mission to win Midges's heart. Not an easy task, given Midge's experiences with men who only showed interest in her because of her connection to Hollywood.
Right from the beginning I was hooked! The writing style of the author is light-hearted and engaging, the plot is both entertaining and very sophisticated which made it hard to turn off my Kindle most of the time. There were several twists in the plot that I hadn't expected. I love surprises in a book and I wasn`t disappointed. Not at all.
The characters of the story are likeable and often funny, and I would like to read more about all of them. So if there was a sequel, I would definitely read it. I found the mix of romance and crime a nice idea and I had a laugh then and there too.
For all those of you who enjoy Chick-Lit-esq books, from Lindsey Kelk, Rosie Walsh and Rosie Blake, Marry Your Billionaire certainly would be a nice addition to your collection.
Book Reviewed by Kerstin
Purchase Links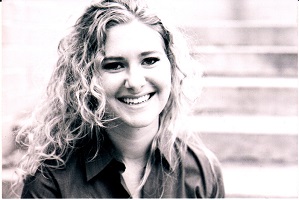 C.J. Anaya is the bestselling author of The Healer Series and Marry Your Billionaire. She also enjoys assisting authors in writing, publishing, and marketing their books with her helpful non-fiction guides on amazon.
She's a huge fan of The Mindy Project, Hugh Jackman, and binge eating any and all things chocolate. Who isn't, right?
As a mother of four awesome children, C.J. is usually helping out with homework, fixing dance recital costumes, or delivering her kids to their karate classes so they can learn discipline, respect, and "…kick some serious butt, mom."
She loves writing entertaining reads for everyone to enjoy, and dabbles in singing and songwriting for kicks and giggles. Making out with her deliciously handsome Latin Lover-her hubby-is by far her most favorite extracurricular activity.
Author Links