Should you ask Me by Marianne Kavanagh – Book Review
Should you ask Me by Marianne Kavanagh – Book Review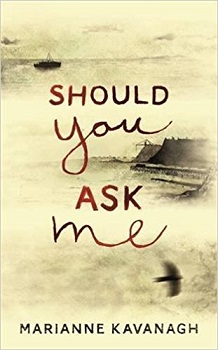 Should you ask Me
Author – Marianne Kavanagh
Publisher – Hodder & Stoughton
Pages – 288
Release Date – 18th May 2017
ISBN-13 – 978-1473639331
Format – ebook, paperback, hardcover, audio
Reviewer – Stacey
I received a free copy of this book
Post Contains Affiliate Links

'I've come about the bodies. I know who they are.'
Just before D-Day in 1944, on the Isle of Purbeck in Dorset, an elderly woman walks into a police station. She has information, she says, about human remains recently discovered nearby.
The bodies could have stayed buried for ever – like the pain and passion that put them there. But Mary Holmes is finally ready to tell the truth.
The young constable sent to take her statement is still suffering from the injuries that ended his army career. As he tries to make sense of her tale, William finds himself increasingly distracted. Mary's confession forces his own violent memories to the surface – betrayals and regrets as badly healed as his war wounds.
Over six days, as pressure builds for the final push in Europe, two lives reveal their secrets.

In a small village in Dorset, 1944, two bodies have been unearthed, bodies that look like they have been buried for many years.
At Wareham Police Station, elderly Mary Holmes, who has lived in Dorset all her life, walks in to confess to murdering the two people.
Constable William, is given the task of listening to Mary's confession and taking a statement, a task which is harder than he envisaged, as Mary wants to tell her story in her own way, starting right at the beginning.
Should You Ask Me, for me, was quiet a hard read. At first I found myself getting frustrated with Mary, as she told her life story before actually getting to who the murdered people were, and how and why she killed them.
As I got further into the book, I started to feel sorry for Mary. She had no-one else, no-one to talk to, no-one to listen to her, and for her to explain what had happened, the only way she could confess was to start way before the killings.
The book doesn't just focus on Mary though, it also focuses on William, as we get to read about his time in the army, the injury that cost him his career, and his meetings with a beautiful evacuee and her baby.
The plot is set over six days, and what a six days it is. The book is full of intrigue, suspense, and emotions. It had me gripped to the pages, not in a thriller kind of way, but in a need to know more about the two main characters, and the lives that they have led and the secrets they both had to share.
Should you ask Me is a beautiful book. It is well written, well researched, and fits the time period perfectly. It is a slow read, but one that you will be glad of the pace, as it lets you absorb all the information, and both of these likeable characters lives.
Book reviewed by Stacey
Purchase Links



Marianne Kavanagh is a writer and journalist. She has worked on staff for Woman, the Tatler, the Sunday Telegraph magazine and British Marie Claire, and has contributed features to a wide variety of newspapers, magazines and websites. She lives in London.
Author Links