Here I Stand by Various Authors – Book Review
Here I Stand by Various Authors – Book Review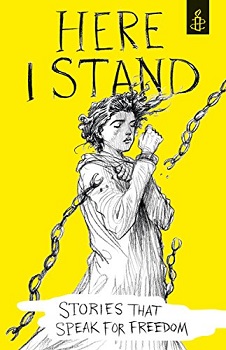 Here I Stand


Stories that Speak for Freedom
Author – Various
Publisher – Walker Books
Pages – 320
Release Date – 4th May 2017
ISBN-13 – 978-1406373646
Format – ebook, paperback, hardcover
Reviewer – Stacey
I received a free copy of this book
Post Contains Affiliate Links

With contributions from Frances Hardinge, Sarah Crossan, Matt Haig, Neil Gaiman and many more.
Did you know that … government spies can turn on your phone and use the microphone to listen to your conversations? … that lesbian and gay relationships are illegal in 78 countries and can be punished by death? … that Amnesty recently recorded the highest number of executions globally for more than 25 years?
Through short stories and poetry, twenty-five leading authors and illustrators explore the top human rights issues facing young people today.
Now is the time to take a stand and make a difference.
Full list of contributors: Tony Birch, John Boyne, Sita Brahmachari, Kevin Brooks, Kate Charlesworth, Sarah Crossan, Neil Gaiman, Jack Gantos, Ryan Gattis, Matt Haig, Frances Hardinge, Jackie Kay, AL Kennedy, Liz Kessler, Elizabeth Laird, Amy Leon, Sabrina Mahfouz, Chelsea Manning, Chibundu Onuzo, Bali Rai, Chris Riddell, Mary and Bryan Talbot, Christie Watson and Tim Wynne-Jones.

Here I Stand, is a beautiful, pragmatic book by amnesty International, that looks at human rights across the globe.
Through a series of twenty-five short stories, poems, and even a few comic strips, written by well known and renown authors, you are given different insights into how human rights are being trampled on, not only by other individuals, but by some communities as a whole.
From a young boy being 'used' as a way to keep his mother alive by her new boyfriend, after his father died, to a teenager being killed by racists, these stories will get into the hearts of many youngsters.
The book is aimed at children and young adults, to help them comprehend what goes on in the world. It will hopefully make them have a more rounded understanding of what they may have read/seen, via the media. It does not preach, nor lecture, but gets straight to the point, in an easy to read, and engage with style.
Whilst a lot of children will know that such atrocities are happening across the world, they will not understand the personal fear, and hurt that those affected will be going through. The book does not aim to scare, but to make children see that change needs to happen, and that they are the future, and the ones that can bring change.
It is a powerful book, one not to be taken lightly. Each author, at the end of their chapter, explains why they wrote the story, and what made them choose that particular topic to talk about.
Personally, I believe that this is a book that should be put in the hands of all children, to educate them whilst they are young. This is a book that should be discussed, and one that needs to be in every school library.
Book reviewed by Stacey
Purchase Links