The Lights of Time by Paul Ian Cross – Book Review
The Lights of Time by Paul Ian Cross – Book Review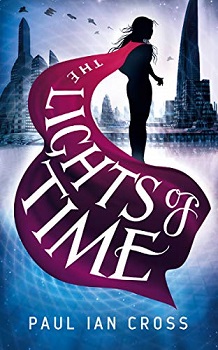 The Lights of Time
Author – Paul Ian Cross
Publisher – Farrow Children's Books
Pages – 328
Released – 27th November 2018
ISBN-13 – 978-1912199051
Format – ebook, paperback
Reviewer – Stacey
Rating – 4.5 Stars
I received a free copy of this book
Post contains affiliate links.
Would you sacrifice your future to save your past?
Engella Rhys is alone, adrift and on the run. Pursued by a secret agency, known only as the Hunters, she must stay ahead to stay alive.
As she travels through space-time using dangerously experimental technology, she only has one wish: to be reunited with her lost parents. After a close shave with a Hunter on the streets of New Shanghai, Engella escapes to find herself on a deserted beach. When she meets a kind stranger, who offers her food and shelter, Engella feels safe and protected for the first time in years.
But who is this woman? And why did their paths cross at the most convenient of times?
Engella soon discovers their lives are intertwined in more ways than she could ever imagine.

Teenager Engella is travelling through time trying to find her parents whilst being chased by the Hunters. She was sent through a wormhole aged eight when her parents were captured. The Hunters work for a corporation that wants the technology to travel through time to be theirs alone.
After a close call, Engella travels to the Isle of Skye, Scotland, 2016 and is helped by a woman called Annys. It turns out that Annys know who Engella is and that she has been waiting for her for many years and that she is her watcher.
The two travel to various places and times but the Hunters are close on their tail again. Can the two avoid being captured and find Engella's parents?
The Lights of Time is a middle-grade novel that features a feisty teenager who is travelling the world and time alone. She last saw her parents nine years ago and has never stopped searching for them.
Each chapter is a shift in time and whilst most are told from Engella's point of view there are a few from the Hunters perspective too. I would have liked to of known from the beginning why Engella was travelling through time and what happened to start her journey but overtime this information was feed through the plot.
The book is engaging and had me enthralled from the first chapter to the very last. It is a fun, exciting adventure and keeps you on your toes wondering where Engella will end up next and in what time.
Overall, this is a great sci-fi story that I'm sure older children and teenagers will enjoy. I now can't wait to read book two in the series.
Reviewed by Stacey
---
About the Author

Paul Ian Cross is a multi-award-winning children's author and scientist from London, UK.
Paul works in clinical research (developing new medicines) and he's also involved in science communication; presenting science to non-scientists. He enjoys his science career but he also has a real passion for writing stories! He likes introducing children to the wonders of science, especially reluctant readers. By introducing science creatively, he aims to spark their interest; allowing them to gain confidence with their reading. As a previous reluctant reader himself, he understands how hard it can be. But it's all about making reading fun and interesting!
Paul's nephew Hayden influenced his decision to become a writer. He loved seeing Hayden's reaction when his sister Michelle first read one of Paul's stories to him!
In his spare time, Paul likes to visit new and exciting places. One of his favourite places is Scotland, especially the Isle of Skye.
Paul's debut picture book, Praxx and the Ringing Robot, won second prize in the 'Picture Books 5 and Younger' category at the Purple Dragonfly Book Awards 2017. The book trailer also won first place in the 'book trailer' category at the Royal Dragonfly Book Awards later that year.
Paul's second book, Planet Scrabbage and the Vegerons, won an honourable mention in both the 'Picture Books 6 and Over' and 'Health' categories at the Purple Dragonfly Book Awards 2018.
And that brings us to now… Paul is currently working on several new books. Paul's debut upper middle grade novel will be published in 2018. The Lights of Time is the first novel in a brand-new series: The Chronicles of Engella Rhys.
Paul hopes you enjoy reading his stories as much as he enjoyed writing them!


---