Him With The Beard by Pernille Meldgaard Pedersen – Book Review
Him With The Beard by Pernille Meldgaard Pedersen – Book Review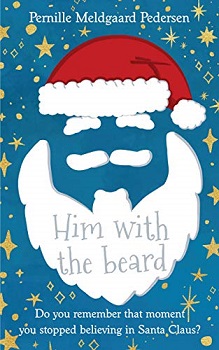 Him With The Beard
Author – Pernille Meldgaard Pedersen
Publisher – PMPstories
Pages – 42
Released – 10th October 2018
ISBN-13 – 978-8797086254
Format – ebook, paperback
Reviewer – Stacey
Rating – 3.5 Stars
I received a free copy of this book
Post contains affiliate links.
Do you remember that moment you stopped believing in Santa Claus?
When nine-year-old Mille suddenly no longer believes in Santa Claus, it turns the house upside down. Her mother, Stella, is in a pickle as the hunt to find Santa Claus unearths some family secrets.
Christmas is at risk! And there's only one person who can save it.

Nine-year-old Millie has stopped believing in Father Christmas. Her mum Stella is devastated and tries everything to convince her daughter that he is real. She is not helped by her husband confirming the truth to Millie.
There is another reason for Stella being so upset, it would seem that Stella was never told that Father Christmas wasn't real and she still believes in the big man himself. Can Stella convince her daughter that Father Christmas is real, or is Christmas ruined for the family?
I have very mixed feelings about this book. It is short and punchy and certainly festive and the book moves along at an even pace and I got through it within an hour. It covers scenes that I'm sure all those with children have had to face at some point, the disbelief in Santa. However, I did find the scenario of a grown woman still believing in Father Christmas and getting angry with her mother when she confirms that he's not real a little too far fetched.
There was also the issue of the way her daughter spoke to her, like a stroppy moody teenager. I'm not convinced a nine-year-old would speak like that, certainly not the children I know and I'm from a huge family, either that, or we are extremely strict. Because of this, it made me really dislike Millie and I felt sorry for Stella.
If you are looking for something Christmassy and short to read then give Him with the Beard a go as it is a decent festive read. Perhaps I've just turned into the Grinch!!
Reviewed by Stacey
---
Purchase online from:
---
About the Author

Pernille was born in 1988 and loves that she was born in the decade with the tallest hair, the most colourful clothes, and the best music.
Her imagination never stands still, and it's often expressed in words and pictures. She wrote her first story when she was six years old. It was about the cat she unfortunately never got but wished for more than anything.
She loves autumn and Christmas and believes in elves. From day to day she is a knight in training, an animator, and a secret agent – she has saved the world a few times by now.
She's also a professional daydreamer. She thinks the recipe for a good book is the same as the one for having a good life – a sense of kinship, humour, love, and that one thing that gives you a daily smile.
Vestercity is a fictional city based on her upbringing near the city of Herning in Denmark.




---