Screamcatcher: Web World by Christy J Breedlove – Book Review
Screamcatcher: Web World by Christy J Breedlove – Book Review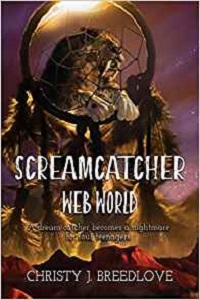 Screamcatcher: Web World
Author – Christy J Breedlove
Publisher – Melange Books
Pages – 218
Released – 6th April 2019
ISBN-13 – 978-1680467482
Format – ebook, paperback
Review by – Julie
Rating – 4 Stars
I received a free copy of this book.
This post contains affiliate links.
When seventeen-year-old Jory Pike cannot shake the hellish nightmares of her parent's deaths, she turns to an old family heirloom, a dream catcher. Even though she's half blood Chippewa, Jory thinks old Indian lore is so yesterday, but she's willing to give it a try. However, the dream catcher has had its fill of nightmares from an ancient and violent past.
After a sleepover party, and during one of Jory's most horrific dream episodes, the dream catcher implodes, sucking Jory and her three friends into its own world of trapped nightmares. They're in an alternate universe-locked inside of an insane web world. How can they find the center of the web, where all good things are allowed to pass?

'Screamcatcher: Web World' is a fantasy novel by YA author, Christy J Breedlove. The book is written in the third person and the past tense. We meet Jory Pike, a seventeen year old student of Chippewa heritage, who has recently been orphaned. Her parents died in a car accident and since that time, she has been plagued by nightmares.
Her grandfather owns a curiosity shop where she works part time. Among the items he sells are dreamcatchers, the prototype of which has been suspended from the ceiling in the back of his shop for years. She somewhat reluctantly agrees to try using this device in the hope it will nullify the impact of her nocturnal terrors. Instead, the reverse happens and along with three friends, she is propelled into a parallel world where the horrific thoughts of the subconscious minds of many generations are manifested.
The four friends try to make sense of their new surroundings; everywhere looks slightly different. Colour seems to have vanished from the world with every road, house and tree covered in a blanket of dust. Their families are missing and the people they meet are hostile. Before they can escape back to their own reality, they have to fight many a foe and work out exactly what has led them to become trapped in the web of this alternative universe.
The group find themselves fighting for their very survival in a surreal world where deception and violence prevail. There is certainly no shortage of action and suspense, with the author using a whole variety of literary devices to tell her story.
If I have a criticism, it is that Jory seemed to accept most of what was going on without too much thought or introspection and her leadership skills are remarkably well developed for someone of her age.
This is an unusual concept with its roots embedded in Native American history which definitely gives it a unique feel. I confess to having never heard of the Anishinaabe indigenous people who live in Northern Midwest America and Canada, so it was with interest that I searched for information. I was intrigued by the idea that the author has taken their folklore and woven a modern story around it. I would have appreciated more of this angle and perhaps less fighting with monsters.
The bitter sweet ending will not be lost on its target audience, whom I'm sure will thoroughly enjoy this book. I award four stars.
Book Reviewer – Julie
---
Purchase online from:
---
About the Author
I became a story teller. I'm a diehard frantic creator of Young Adult fiction, whether it's paranormal, science fiction, suspense or fantasy. I believe in pure escapism with unceasing action adventure and discovery. If you want a moral message or cultural statement, you're apt to get a small one. But let me tell you something, reader, I want to make you laugh until you gag, cry until you're dry and tear out tufts of your hair.
Today, young adult lit needs a resurrection. How soon we've forgotten about Harry Potter, Hunger Games, Divergent and Twilight. Oh, the mania! Where has it gone? Are we losing our young readers? We need something really fresh and new. I and several writers are going to pour everything we have into that end. You are the kindly judge–help us get there and we will deliver!

---
What did you think of Screamcatcher: Web World? Share your thoughts in the comment section below!
---
The above links are affiliate links. I receive a very small percentage from each item you purchase via these link, which is at no extra cost to you. If you are thinking about purchasing the book, please think about using one of the links. All money received goes back into the blog and helps to keep it running. Thank you.