How to Hang a Witch by Adriana Mather – Book Review
How to Hang a Witch by Adriana Mather – Book Review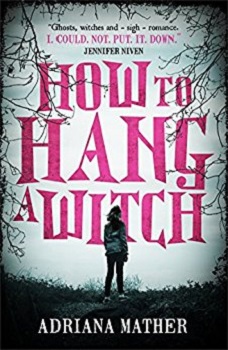 How to Hang a Witch
Author – Adriana Mather
Publisher – Walker Books
Pages – 384
Released – 4th January 2018
ISBN-13 – 978-1406378795
Format – ebook, paperback, audio
Reviewer – Stacey
Rating – 5 Stars
I received a free copy of this book
Post contains affiliate links
After Sam's father is hospitalised, she has to move from New York to Salem with her stepmother, Vivian. Unfortunately, Sam is related to Cotton Mather, one of the men responsible for the Salem Witch Trials, and to say she feels unwelcome in Salem is an understatement…
She is particularly unnerved by The Descendants, a mysterious and tight-knit group of girls related to those persecuted in the Trials. At the same time, she must deal with Elijah, the handsome but angry ghost who has appeared in her house, and her new neighbour Jaxon only complicates things further.
When a centuries-old curse is rekindled, Sam finds herself at the centre of it. Can she stop history repeating itself?

Teenager Samantha (Sam) Mather's father is in a coma, her Step Mum Vivian has had to sell their apartment in New York to pay for his medical bills and move them to the house that her Grandmother owned before she died, located in Salem.
Being a Mather in Salem isn't easy though, as one of her relations, Cotton Mather, was one of the people behind the famous witch hanging in 1692.
Also living in Salem, and attending the local high school, are the descendants of the witches that were hung. They are not impressed with the arrival of Sam, especially when people start dying, leaving Sam to take the blame. They believe that she is cursed and want her to leave.
Is Samantha really cursed, or are there far greater evil forces in Salem?
I love a good story about witches, and How to Hang a Witch was definitely good. In fact, it was more than that, it was amazing. It was so good that I ordered the sequel, Haunting the Deep, and I am already half way through.
Whilst the story might be fictional, the Salem Witch hangings are certainly true, and being a Mather herself, the author is actually the real descendant of Cotton Mather. The book combines a great story with factual events, leaving you with subtly embedded factual knowledge.
The plot contains a whole host of characters that YA readers will love.
-The school gang who everyone is afraid of and take an instant dislike to the new girl. (Think Mean Girls)
-Two hot young men, though one is a ghost and a few hundred years old.
-A feisty protagonist with a smart mouth, who is determined to find out the truth at any cost. One who has confident outer strength, while her inner is less so sure about herself.
I read the book in two sittings, one in to the early hours of the morning. There are plenty of twists and turns to keep you interested and a fantastic showdown near the end. Believe me, I did not envisage a certain person being the evil force at play.
This is a book that you can fully immerse yourself within. One you can forget the outside world and go and take a walk in Salem, where the houses are painted black, the police cars have a witch logo on them and everyone knows a descendant.
Reviewed by Stacey
---
Purchase online from:
---
About the Author

Adriana Mather is the 12th generation of Mathers in America, and as such her family has their fingers in many of its historical pies – the Mayflower, the Salem Witch Trials, the Titanic, the Revolutionary War, and the wearing of curly white wigs.
Also, Adriana co-owns a production company, Zombot Pictures, in LA that has made three feature films in three years. Her first acting scene in a film ever was with Danny Glover, and she was terrified she would mess it up. In addition, her favorite food is pizza and she has too many cats.




---