Sheltered by Jacob Paul Patchen – Book Review
Sheltered by Jacob Paul Patchen – Book Review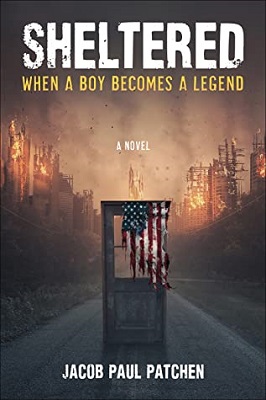 Sheltered: When a Boy Becomes a Legend
Author – Jacob Paul Patchen
Publisher – TouchPoint Press
Pages – 162
Released – 15th February 2021
ISBN-13 – 978-1952816352
Format – ebook, paperback
Rating – 4 Stars
I received a free copy of this book.
This post contains affiliate links.


Synopsis
With America under attack from within, twelve-year-old James must fight his way to freedom while trying to hold onto his values and virtue.
"We are all given a space in life to fill, a roaring emptiness in time… and it's how you choose to fill that void, that will determine the difference in becoming a man or a legend."
That's what my father said to me a few years ago before he walked out on Mom, Emily, and me. If I would have had any sense back then, I would have asked him exactly what that meant.
Instead, I'm out here learning it the hard way – dodging bullets and bombs while America is at war – my friends fighting back with all we have, while trying to keep these orphaned children safe and our dreams alive.
They call us The Risers. Well, okay… so we call ourselves "The Risers." But either way, we're out here doing everything we can just to survive and rise up from our nation's ashes with honor, integrity, and justice.
Now, with smoky memories of a lost childhood, and the horrible, lingering, cardboard taste of MRE crackers (still left over from living in Dad's bomb shelter), my mini army and me march forward, taking back what was once taken for granted.
But to be honest, I'm really just out here winging it. Wish me luck.
This is an incredibly strong and powerful story and the perfect book for young adults. The novel dives head first to James, a clearly terrified but brave twelve-year-old who has found himself fighting a war that he never saw coming across the United States of America. He wants nothing more than to go back to when life was normal, to a time before his Dad left the home where he was happy with him, his Mom and sister Emily.
His description of his war-torn country, after months in the bunker created by his Dad, dodging bullets and bombs, looking after the younger children, having lost their childhood to the war that they were fighting, you just want to reach out and make everything better for him, for them all. That's how creative the writing is in this novel, you could picture it, see it, smell it, feel it. Such a good example of an exceptional read for young adults. It is artfully written and the emotional connection with James is wonderful.
There is no doubt that James, even from the beginning of this story, is an absolute legend. The description of children as young as six, being part of The Risers creates the suspense. I was desperate to find out what had happened in the United States for such young children to be fighting such a barbaric war. It's truly horrifying what James had witnessed and you are behind him all the way.
The book is definitely a crossover novel with YA and adults in a similar way to The Hunger Games or The Divergent series. It is definitely compelling and hard to put down, the rich imagery definitely stands-out.
But it's the relationship James has with his father which is totally heartfelt. Because that's the day that changed everything for him and was probably what turned him into such a driven leader. He idolises his Dad and wanted to be like him, probably not appreciating that he was a carbon copy of him all along. An exceptional read that I would definitely recommend.
Purchase Online From:
---
What did you think of 'Sheltered: When a Boy Becomes a Legend'? Share your thoughts in the comment section below!
---
The above links are affiliate links. I receive a very small percentage from each item you purchase via these link, which is at no extra cost to you. If you are thinking about purchasing the book, please think about using one of the links. All money received goes back into the blog and helps to keep it running. Thank you.
Like us on Facebook – Tweet us on Twitter – Pin us on Pinterest – Join us on Instagram