Damage by Caitlin Wahrer – Book Review
Damage by Caitlin Wahrer – Book Review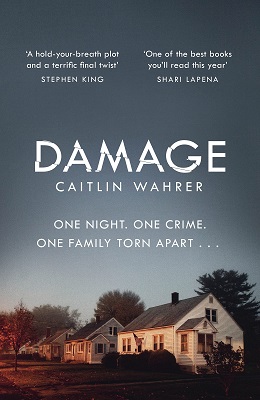 Damage
Author – Caitlin Wahrer
Publisher – Michael Joseph
Pages – 400
Released – 8th July 2021
ISBN-13 – 978-0241451113
Format – ebook, paperback, hardcover, audio
Rating – 4 Stars
I received a free copy of this book.
This post contains affiliate links.


Synopsis
Sometimes, the true story is the hardest to believe.
TONY has always looked out for his younger brother, Nick. So when Nick is badly hurt and it looks like he was the victim of sexual assault, Tony's anger flares.
JULIA is alarmed by her husband Tony's obsession with Nick's case. She's always known Tony has a temper. But does she really know what he's capable of?
NICK went out for a drink. After that, everything's a blank. When he woke up he found himself in a world of confusion and pain, and the man who hurt him doesn't deny doing it. But he says the whole thing was consensual.
Three ordinary people; one life-shattering event. When the police get involved with this family in crisis, all the cracks will start to show . . .
The focus of Damage is that of male rape and the aftermath for both the victim and the family. The book begins in 2019 with Detective Rice who has cancer and doesn't have long left to live requesting that Julia, the sister-in-law of rape victim Nick visit him at home as he wants to discuss Nick's case, the case that he worked in 2015.
The plot then moves back in time to 2015 when Julia and her husband Tony receive some shocking news that Tony's younger half-brother, university student Nick is in hospital. Tony rushes to his side and is devastated to learn that not only has Nick been badly beaten he has also been raped.
What plays out is a family having to emotionally come to terms with what has happened. Julia tries to hold her family together and help Nick in any way she can, she is a former defense attorney and uses her skills. Tony feels constantly angry that someone has hurt his little brother like that, the brother that he has had to protect for so long due to their tough upbringing. He feels guilty for not being there to protect him and vows to get revenge.
Can this family survive the trauma and what does the detective want with Julia four years after the case?
Damage is a very poignant book, one that will stay with you long after you have finished reading it. I was puzzled at the beginning as to what Detective Rice could want with Julia and why was her reaction so bad, she knew she had to go but she felt sick at the prospect of speaking to him. This got my attention.
The plot is told from various points of view and in the two timelines, though mainly in 2015/16. It is also split into different sections. You always knew whose head you were in and what the year was as these were given at the top of the page. The 'chapters' were relatively short which kept the book moving along steadily although the book itself was quite a slow burner.
Damage isn't an easy read. It cuts to the bone and has you wanting to hold those close to you. It is very character-driven and you feel every emotion that they do, it is heartbreaking at times. It was tough to see a family being pulled apart. I felt that Julia was the one holding it together the most and also the one who was ready to step up and do everything and anything she could for the men in her life.
This is a psychological thriller. There was a lot of tension throughout that at times got my heart pumping. Whilst the subject matter was handled with care and integrity, the case was brutal and the aftermath more so.
Purchase Online From:
---
What did you think of 'Damage'? Share your thoughts in the comment section below!
---
The above links are affiliate links. I receive a very small percentage from each item you purchase via these link, which is at no extra cost to you. If you are thinking about purchasing the book, please think about using one of the links. All money received goes back into the blog and helps to keep it running. Thank you.
Like us on Facebook – Tweet us on Twitter – Pin us on Pinterest – Join us on Instagram