Forgive Me Not by Samantha Tonge – Book Review
Forgive Me Not by Samantha Tonge – Book Review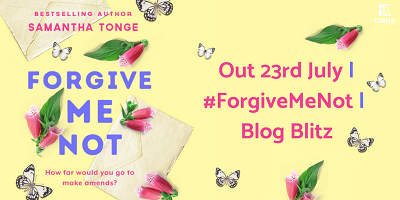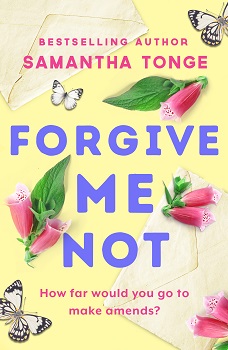 Forgive Me Not
Author – Samantha Tonge
Publisher – Canelo
Pages – 254
Released – 23rd July 2018
Format – ebook
Reviewer – Stacey
Rating – 5 Stars
I received a free copy of this book
Post contains affiliate links.
Forgiveness can be hard to come by… An unputdownable new novel from bestseller Samantha Tonge.
How far would you go to make amends?
When Emma fled her home at Foxglove Farm, she'd let down and hurt those who cared for her most. But now, two years later, she's ready to face up to her past; she's ready to go back.
But Emma's unannounced return causes more problems than she could have foreseen. The people she knew and loved aren't ready to forget, let alone forgive. And the one person she wants to reconnect with the most, her mother, can't remember who she is.
Just as Emma starts to rebuild trust, an uncovered family secret and a shocking past crime threaten her newly forged future…
Sometimes simply saying sorry isn't enough.
Perfect for readers of Ruth Hogan or Amanda Prowse, this is an extraordinary and unforgettable novel about running away from yourself – and finding a way back.

Emma has returned to her family home at Foxglove Farm, Healdbury, to make amends and apologise for her past behaviour to her older sister Andrea and her mum.
However, although she wasn't expected to be welcomed back with open arms, she certainly wasn't expecting the scene that she sees before her. Her mum has early onset Alzheimer's and doesn't recognise her. Her sister wants her to leave and tells her she isn't welcome and doesn't want anything to do either her ever again. Even her ex-boyfriend Bligh tells her to leave.
With her family, friends and even the villagers wanting her to go, it takes all of her strength to stay and fight for forgiveness, but not everything is forgivable, could this be the case for Emma?
The book is exceptionally poignant and covers some tough subjects such as alcoholism, homelessness, and forgiveness. All were handled with care and thoroughly researched, which shows in the superb, realistic writing.
The story moves between the present day and months before Emma's return home in which she was in Manchester and sleeping rough in the city centre. With Manchester being my hometown it was lovely (even in the circumstances) to see all the areas mentioned, giving me plenty of scope to perfectly visualise the scenes. It was also eye-opening to see just what those sleeping rough in the city go through.
'Forgive Me Not', is a new direction in writing for Samantha Tonge, away from her Rom Coms. She may have thought it was a risk heading in a different direction, but it definitely has paid off as this book was an absolute joy to read. I loved every minute of it and congratulate Samantha Tonge on writing a fabulous, heartfelt and insightful book that will stay with me for a long time.
Reviewed by Stacey
---
Purchase online from:
---
About the Author

Samantha Tonge lives in Cheshire with her lovely family and a cat who thinks it's a dog. When not writing she spends her days cycling, willing cakes to rise and avoiding housework. She has sold over 80 short stories to women's magazines.
Her bestselling debut novel, Doubting Abbey, was shortlisted for the Festival of Romantic Fiction best Ebook award in 2014. Game of Scones hit #5 in the UK Kindle chart and won the Best Romantic Ebook category at the 2015 Love Stories Awards.





---