An Oriental Murder by Jane Bastin – Book Review
An Oriental Murder by Jane Bastin – Book Review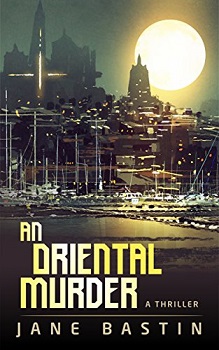 An Oriental Murder
Author – Jane Bastin
Publisher – Createspace
Pages – 198
Released – 17th May 2018
ISBN-13 – 978-1719197380
Format – ebook, paperback
Reviewer – Stacey
Rating – 4 Stars
I received a free copy of this book
Post contains affiliate links.
The Pera Palas hotel in Istanbul, Turkey plays host to the Agatha Christie Writers' Congress when real life imitates fiction. The bodies of the Prime Minister and his occasional mistress are found dead in one of the hotel's locked rooms surrounded by bodyguards. Seemingly, no one could get in or out, and yet…
Inspector Sinan Kaya is convinced that foreign agents are culpable, and that the murders are linked to the recent spate of killings of Turkish government officials.
Within this complicated, crime riddled city, Sinan Kaya's moral compass never falters. Not concerned with threats of dismissal from the force, he cuts his own path through the investigation, determined to uncover the truth.
An Oriental Murder is a tale of espionage and murder set against the backdrop of beautiful Istanbul, the ancient city where east and west meet.

Just as the Twentieth Agatha Christie Foundation Congress is getting underway at the Pera Palas Hotel in Istanbul, Turkey, a double murder has been called into the police. The Prime Minister and his choice of girl for the night have been found dead in his hotel room. A room that only has one way in and out.
Inspector Sinan Kaya is called to the scene and comes up against the frosty reception of the Prime Ministers bodyguards. That isn't all he has to contend with though. With the hotel full of crime novel writers, some seem to think they have the know-how to how the murders were committed and are out in full force to let the inspector know.
Overworked and under-appreciated, it has been a long day for Inspector Kaya as he was just returning from the scene of a murder of a second man, a diplomat, found half-naked and with the word 'Barbaro' etched into his genitals down an alleyway, the second victim found in this way.
Could the cases be linked? It is up to Inspector Kaya and his team to find out whether they are hunting two or just the one killer.
An Oriental Murder is a very descriptive book, one that brings the city of Istanbul to life. Having never been to Turkey, this descriptiveness made sure I wasn't missing out on any part of how the city looked, smelt and even the delicacies that the local restaurants served up.
The synopsis mentions the Crime Writes Congress and I was looking forward to hearing all about this, however, the actual congress played little part in the book, just like the writers too. The story mainly follows Inspector Kaya as he weaves through the clues on the hunt for a killer or killers. There is a romantic distraction for him in the form of Beatrice (Bea) Schiller, the daughter of Agatha Schiller who is running the Congress.
I must admit Bea isn't exactly a likeable character. She has been married 5 times (she is only 45-years-old) and it is obvious that she is looking for husband number six and it comes across that she has the inspector firmly in her sights to be that man.
The book is quite short in comparison to most thriller/crime books that I have read, so I got through it in no time. There are plenty of twists and turns to keep the investigation alive for the duration. The book reads more like a cosy murder mystery than an edge of your seat thriller, but that didn't take anything away from how absorbed I became in the book.
With a glorious setting and a brilliant plot, this book is well worth your time. Be warned though, it might make you salivate with all the mentions of food throughout.
Reviewed by Stacey
---
Purchase online from:
---
About the Author

Jane is a storyteller, writer, traveller and educator. Having lived and worked for over thirty years in Turkey, Jane has amassed a breadth of experiences that have led to the writing of the Sinan Kaya series of novels. Of course all characters and events are fictitious!
Fluent in both English and Turkish, Jane writes in both languages and has had a range of articles published in Turkish periodicals and magazines alongside British newspapers.  Jane now divides her time between rainy Devon and sunny Turkey.



---