We're Going on a Bar Hunt by Josie Lloyd & Emlyn Rees – Book Review
We're Going on a Bar Hunt by Josie Lloyd & Emlyn Rees – Book Review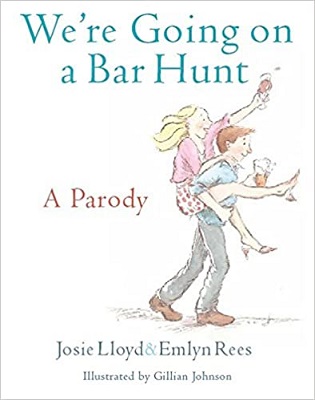 We're Going on a Bar Hunt
Author – Josie Lloyd & Emlyn Rees
Illustrator – Gillian Johnson
Publisher – Constable
Pages – 48
Released – 17th October 2013
ISBN-13 – 978-1472109798
Format – ebook, hardcover
Review by – Stacey
Rating – 4 Stars
This post contains affiliate links.


We're going on a bar hunt.
We're going to find a cool one.
The babysitter's booked.
We're not old!
Bestselling authors Emlyn Rees and Josie Lloyd also happen to be parents, so they understand the complications of organising a rare night out. In this parody of the famous children's book, two parents set off for a night on the tiles, and encounter a series of watering holes and bars before an alarming encounter with a 'bear' sends them running home to their children.
Gillian Johnson is the author and illustrator of the successful Monster Hospital and Thora series for children. Her illustrations bring this story to life, gently parodying the original but adding an anarchic edge as the evening progresses.
We're not going on a bar hunt again!

We're Going on a Bar Hunt is a parody using the famous and well-loved Michael Rosen children's tale 'We're Going on a Bear Hunt'. In this humorous book, a couple has booked a babysitter for the night so that they can go out on the town and have fun. They start at their local off-licence, then move on to a gastro pub, a cocktail bar, and then a night club before having to make a hasty retreat home when they come across a bear.
The book is a bit of fun and gave me a giggle. The illustrations are giggle-worthy too. It is a quick, short read and is written in the same rhythmic style as the original. I do wonder whether Michael Rosen is offended by his book being made into a parody or whether he found it amusing too?
The book is a bit of a slap in the face at the moment with Covid-19 around and people not being able to meet friends and have fun in pubs, which to me made the book more humorous. Have a look at what life used to be like!!
For adults who have read, We're Going on a Bear Hunt numerous times to your children this book will make you smile. Also as I have said in previous parody book reviews, they would make fabulous Secret Santa gifts and this one is especially good for this year. I was thinking throughout though that if I drank what they did I'm not sure I'd have been able to make it home these days. It's a very long time since I went on a bar hunt (or pub crawl).
Book Reviewer – Stacey
---
Purchase online from:
---
About the Author
Josie Lloyd & Emlyn Rees are the bestselling authors of Switch It Off!, Come Together, A Twist of Fate, Hunted and many more. They're married and live in Brighton with their three children.


---
What did you think of We're Going on a Bar Hunt? Share your thoughts in the comment section below!
---
The above links are affiliate links. I receive a very small percentage from each item you purchase via these link, which is at no extra cost to you. If you are thinking about purchasing the book, please think about using one of the links. All money received goes back into the blog and helps to keep it running. Thank you.
Like us on Facebook – Tweet us on Twitter – Pin us on Pinterest