Blood Moon by John David Bethel – Book Review
Blood Moon by John David Bethel – Book Review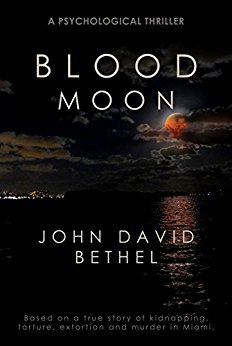 Blood Moon
Author – John David Bethel
Publisher – Tell-Tale Pub
Pages – 450
Release Date – 29th August 2016
ISBN-13 – 978-1944056186
Format – ebook, paperback
Reviewer – Linda
I received a free copy of this book
Post Contains Affiliate Links

On a hot, steamy afternoon in Miami, Cuban-American businessman Recidio Suarez is brutally beaten and abducted. Handcuffed, shackled and blindfolded, he has no idea why he has been targeted. What he discovers is heart-stopping. What he endures during almost a month of captivity compares only to the most horrendous stories of prisoners of war.
He is tortured, and under the threat of death, and worse – the rape of his wife and torture of his children – Suarez is forced to hand over his multi-million dollar holdings to his captors. Suarez survives and then spends the next few months staying one step ahead of the murderous pack.
During this time, he and his lawyer, Nolan Stevens – a former Special Agent in Charge of the Miami Office of the FBI – are having difficulties convincing the Miami-Dade Police Department that a crime has been committed. Their efforts are complicated by Steven's difficult history with the head of the MDPD Special Investigations Division, who is not interested in pursuing the case.
Review
"Praise for Blood Moon! Truth can make great fiction. Blood Moon is a work of fiction, at its core is a true story of a crime committed in Florida in the 1990"
John David Bethnal's book is a blood thirsty tale which he does an excellent job with the facts while adding his own narrative to the story.
It is exceptionally well written, and offers a good choice of words that describes the abduction, and torture of Surez with gut wrenching accuracy. It comes across so vivid that it sparks the imagination for totally evil captors!
The storyline was well planned with twists and turns, and with plenty of intrigue. For me, a complete surprising twist at the end revealed one of the characters in a completely different light. A very dark, bloody and gut wrenching mood follows this book through which Bethnal wrote well of such evil deeds.
The depth of characters in the book are believable, and some I wouldn't want to meet on a dark night!! Easy flowing and fast pace, Blood Moon is a certain page turner. A dark plot which shows the reader to what depths some humans will go to for money.
Book reviewed by Linda
Purchase Links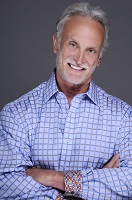 David Bethel is the author of Blood Moon, a psychological thriller inspired by a true life crime of kidnapping, torture, extortion and murder, and Evil Town, a political thriller set in Washington, D.C.
Mr. Bethel spent 35 years in politics and government as a communications strategist and speechwriter. He was Associate Administrator for the Office of Communications Services at the U.S. General Services Administration; Senior Adviser/Director of Speechwriting for the Secretaries of Commerce and Education; lead speechwriter in the Department of Transportation's Office of Policy and International Affairs; and press secretary and speechwriter to members of U.S. Congress.
David Bethel graduated with Phi Beta Kappa honors from Tulane University and lives in Miami, Florida.
Author Links