Moroda by L. L. McNeil – Book Review
Moroda by L. L. McNeil – Book Review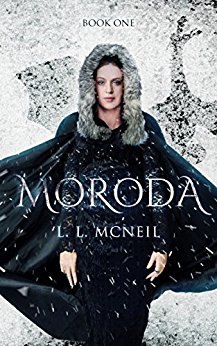 Moroda


World of Linaria
Author – L. L. McNeil
Pages – 506
Release Date – 31st March 2017
Format – ebook, paperback, audio
Reviewer – Clive
I received a free copy of this book
Post Contains Affiliate Links

Linaria is a world where dragons are revered as gods, where airships rule the skies, and where war is stirring.
For Moroda, a former Goldstone, her life of luxury ends following her father's sudden death. When her city is destroyed by a dragon, she and her sister ally with a sky pirate and narrowly escape the carnage—only to find a vigilante from an exiled race has left a trail of destruction everywhere his growing army has travelled. With compulsion at his fingertips, he strengthens his hold over Linaria's people by stealing the power of dragons. It's only a matter of time before Moroda, too, is forced to submit.
With war nipping at her heels and danger lurking in her companions and adversaries, Moroda must quickly learn about herself, her world, and the dragons so intent on reducing it all to ash.
Moroda is the first novel in an epic six-book saga, following a group of characters as war rages across their world. With pirates and soldiers, smiths and princes, Linaria is a vibrant land with a deeply unsettled past and an equally ominous future.
Review
If you like fantasy novels Moroda will be right up your street, as it provides all the features you would expect.
It is set in what we would recognise as Medieval times and starts with an unexpected journey of adventure by a diverse band of characters, including those that transform into animals and others that can fly. The book also has mountains, cave dwellers, dragons, and of course lots of magic taught by the typical wise old professor.
Seen primarily from the perspective of the lead character, the story follows all too familiar themes taking her from her privileged home through strange lands and several dangerous adventures to a finale that closes this story, but which leaves just enough loose ends for the following five volumes.
However, while there is nothing wrong with following an established formula, a book has to offer something new or unexpected, and in opinion this book did not do that.
McNeil is a competent writer who produces text that is easy to read, but for me, the lack of originality made the whole thing a bit hard going.
Hopefully there are some livelier storylines in the rest of her series. Unfortunately, I can only award this Moroda three stars.
Book reviewed by Clive
Purchase Links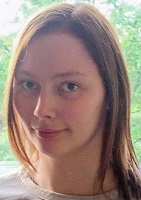 I'm a professional copywriter and a self-published fantasy author. Words and writing have always been part of my life!
My debut novel, "Moroda," was released as an eBook in April 2017 and in paperback in May 2017. It's the first book in a series of six.
I have a degree in Psychology and a fascination with MBTI (I'm an INFJ!) – I love reading and writing about introversion. I'm a petrol head and thalassophile, and adore castles, sunshine, and dragons! I've always lost myself in the fantasy worlds I read and create, and its been an incredible achievement to finally publish my own.
Author Links