Sinister Ties by Shirley S. Simon – Book Review
Sinister Ties by Shirley S. Simon – Book Review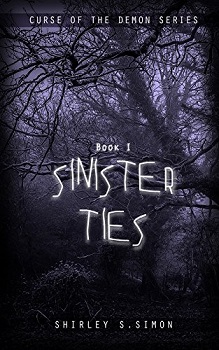 Sinister Ties


Curse of the Demon Series Book One
Author – Shirley S. Simon
Pages – 144
Release Date – 19th July 2016
Format – ebook
Reviewer – Julie
I received a free copy of this book
Post Contains Affiliate Links

The screams of a child trapped in a blazing fire, echo in the depths of a deserted stone hallway, leaving Bodhi terrified and shaken to his core. Has the dark stormy night conjured a nightmare for him or is this a premonition of something terrible coming his way?
Max Devon lives a happy peaceful life with his wife and daughter. When his past comes knocking on his door, his whole world is threatened by this harbinger of death. Will he be able to protect his family in time? Will he be able to escape his cursed past?
An ancient evil is rising, thirsty for power and control. Forgotten friendships would have to be revived, new alliances formed before everything is lost.
Beware the family ties. There's something sinister lurking there.

'Sinister Ties' is the first book in a new series of supernatural novels by Delhi-based author, Shirley S. Simon. The opening sequence lasted for the first ten per cent of the book and I confess I was confused as to what was going on, as the characters were identified only by the pronouns 'he' and 'she'. However the content was sufficiently interesting to encourage me continue.
The book cover gave a clear signal that this book would be eerie and it definitely lived up to its billing.
The writing was clear, the style free-flowing and it had a no-nonsense straightforward structure. As it comprised just 144 pages, I finished the book in two sittings. The descriptions were colourful but the length of the story prevented the characters from developing to their full potential, which is a shame as some of them showed promise.
It was an uncomplicated standard good-versus-evil tale with the slightly predictable 'harbinger of death' doing her worst but it had some interesting features, particularly the pivotal character of Bodhi, who added a quirky dimension.
I think this author shows potential and wish Shirley S. Simon well with her subsequent books. I award her a competent three-and-a-half stars for Sinister Ties.
Book reviewed by Julie
Purchase Links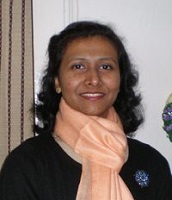 I am a fiction writer, an amateur photographer, an avid book reader and reviewer and a novice artist.
I live in Delhi, India with my family. I love reading mysteries and crime and thrillers. My favorite authors being Agatha Christie, Tami Hoag, Sir A. C. Doyle, L.J. Smith and I have recently fallen in love with the works of Stephen King.
I am also partial towards the paranormal, the supernatural, fantasy and everything magical. I enjoy watching movies. I surf the net seeking brain food… something that stimulates the mind and makes you appreciate that god chose to give you life and a place on this planet. My faith keeps me grounded and practical for most part of it.
Author Links
www.superphoenix.wordpress.com
@ssimonshirley
Facebook
Pinterest
Goodreads