Legacy by Terry Tyler – Book Review
Legacy by Terry Tyler – Book Review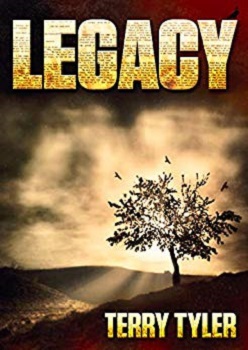 Legacy
Project Renova Book Four
Author – Terry Tyler
Pages – 538
Released – 25th October 2018
Format – ebook
Reviewer – Julie
Rating – 5 Stars
I received a free copy of this book
A hundred years after the world was devastated by the bat fever virus, the UK is a country of agricultural communities where motherhood is seen as the ideal state for a woman, new beliefs have taken over from old religions, and the city of Blackthorn casts a threatening shadow over the north of England. Legacy travels backwards in time to link up with the characters from Tipping Point, Lindisfarne and UK2.
Seventeen-year-old Bree feels stifled by the restrictions of her village community, but finds a kindred spirit in Silas, a lone traveller searching for his roots. She, too, is looking for answers: the truth behind the mysterious death, forty years earlier, of her grandmother.
In 2050, Phoenix Northam's one wish is to follow in the footsteps of his father, a great leader respected by all who knew him…or so his mother tells him.
In 2029, on a Danish island, Lottie is homesick for Lindisfarne; two years earlier, Alex Verlander and the kingpins of the Renova group believe they have escaped the second outbreak of bat fever just in time…
Book 4 of the Project Renova series rebuilds a broken country with no central government or law, where life is dangerous and people can simply disappear…but the post-Fall world is also one of possibility, of freedom and hope for the future.
'Legacy' is the fourth and final book in the 'Project Renova' series by British best-selling author, Terry Tyler. The story is told from the prospective of several characters and is written in the first person and the present tense. The cover design is simple yet highly symbolic.
Although a hundred years have passed, life in small communities is still predominantly agrarian and altruistic. In contrast, larger settlements have moved to a mixed economy but instead of developing a fair and just system of law and order, have become brutalised and bloodthirsty. Much of the countryside is still uninhabited and from some bleak descriptions, it is clear humankind won't return to its pre-apocalyptical consumer-led society model any time soon.
The author has taken quite a risk with this book. The structure is unusual in that she takes the device of inclusion and after some drip-feeding of events over the intervening years, we then travel back in time. We stop off at various pivotal points along the way, ending up more or less where the last book finished. It is all then wrapped up by moving forward again to 2127. From a writing point-of-view, it is an amazingly difficult task to make the timelines work but as far as I could tell, they did and there were no loose ends.
I found it very helpful to have a brief synopsis of the previous books in the series at the end. There are a lot of characters but if you get your head round them, you will definitely be rewarded as the plot develops.
As usual, Tyler's writing techniques are displayed in abundance. We have foreshadowing, humour, imagery, jealousy, sarcasm, pathos, poignancy, fear, love and hate all mixed together in the melting pot of her mind to build some amazingly strong characters; some were familiar and some were completely new. Either way, without doubt, the reader cannot help but care deeply about them.
There were parallels with events at the Colosseum in ancient Rome, Edmund and Henry Tudor and indeed a bit of 'Mein Kampf' along the way, all weaved seamlessly into the plot.
I worried that it might be a bit of a let-down after the others in the series. However, it was nothing of the sort. It would stand alone as a novel in its own right but for those of us who have been with Terry Tyler since 'Project Renova' began, it was the perfect vehicle for closure. Some people got their comeuppance but some didn't, just as it is in life. Some people thrived and some lives ended ignominiously, keeping it grounded with an earthy realism. And that's the nagging doubt we are left with; this scenario could actually happen … Definitely worth a much-deserved five stars.
Reviewed by Julie
---
Purchase online from:
---
About the Author

Terry Tyler is the author of seventeen books available from Amazon, the latest being 'Legacy', the fourth book in her new post-apocalyptic series. She is proud to be self-published, is an avid reader and book reviewer, and a member of Rosie Amber's Book Review Team.
Terry is a Walking Dead addict, and loves history, winter, South Park and Netflix. She lives in the north east of England with her husband; she is still trying to learn Geordie.




---
Blog posts straight to email via Bloglovin – Like us on Facebook – Follow us on Twitter