Wicked Charms by Janet Evanovich & Phoef Sutton – Book Review
Wicked Charms by Janet Evanovich & Phoef Sutton – Book Review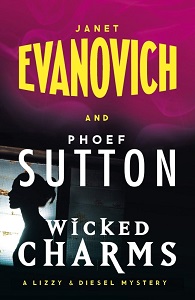 Wicked Charms
A Lizzy and Diesel Mystery
Author – Janet Evanovich & Phoef Sutton
Publisher – Bantam
Pages – 320
Release Date – 23rd June 2015
Format – ebook, paperback, hardcover
Reviewer – Stacey
I received a free copy of this book
Post Contains Affiliate Links

Never trust a charmer…
Lizzy Tucker is happy to work quietly at Dazzle's Bakery, preparing delicious treats for the locals. But her partner Diesel is all about the hunt. Right now he's tracking down a famous pirate's treasure, hidden somewhere along the coast of New England. This bounty contains much, much more than gold and jewels: it's also the hiding place of the powerful Stone of Avarice.
Lizzy and Diesel aren't the only ones searching for the Stone. Some greed-driven seekers are willing to kill for it, or even make a deal with the devil. And one of those dangerous seekers looks a lot like Diesel's deceptively charming cousin, Wulf – who also happens to desire Lizzy herself…

Lizzie Turner is a young woman working at Dazzle's Bakery, in Salem, making her delicious and magical cupcakes. She would love a quiet and uneventful life with her cat, Cat!, unfortunately her partner Diesel has other ideas.
Diesel is a hunter, and he's on the trail of a very famous pirate treasure. He needs Lizzie's skills to help find the 8 pieces of a coin that will help lead them to the treasure.
However, they aren't the only ones after it. Factor in Diesel's strange cousin Wulf, and his lapdog Hatchet, plus the eccentric super-rich, Mr. Ammon and his loyal servant Rutherford, and they have a fight on their hands to get there first.
Oh, and I forgot to mention the Stone of Avarice and an ancient god/devil Mammon.
'Wicked Charms' is the first book that I have read in the Lizzie and Diesel Mystery series. Being the third book, I had obviously missed out on the back-story to the two main characters.
At first I was baffled as to what was going on. Lizzie seemed on the outside to be a normal young woman, working at a bakery alongside her friend Clara, yet she has some mystical power in discovering items. Diesel came and went as he pleased and never seemed to stay still for more than two minutes. I was unsure as to whether he and Lizzie were an actual couple, why did Diesel have a very moody monkey called Carl, and who or what is Broom?
As the book progressed, most of the above became clear, except for Carl, who I must say for a monkey can certainly hold his own in the book.
The book is completely barmy! It's hilarious, side-splittingly funny in parts. The characters are themselves wacky, and I loved each and every one of them. We have the crazy witch wannabe, Glo and her Broom. Josh, Glo's pirate talking boyfriend. A coroner, Dr. Theodore Nergel, who can hear the last thoughts of the dead, plus a whole host of unusual secondary characters, who just make the story complete.
The writing is superb. It has a natural flow to it and I felt drawn to every word. The pace throughout is fast and at times will take your breath away. I just couldn't put this book down. I was bemused most of the way through, yet totally engrossed in the story from beginning to end.
Wicked Charms is a fabulous novel that you must try, even if it is only to see how magnificent the writing actually is. Now all I have to do is go back and read the other two books in the series.
Book reviewed by Stacey
Purchase Links


Janet Evanovich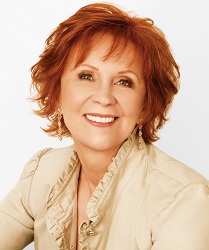 Janet Evanovich is the #1 New York Times bestselling author of the Stephanie Plum series, the Fox and O'Hare series with co-author Lee Goldberg, the Lizzy and Diesel series, twelve romance novels, the Alexandra Barnaby novels and Troublemaker graphic novel, and How I Write: Secrets of a Bestselling Author.
www.evanovich.com
@janetevanovich
Facebook
Instagram
Phoef Sutton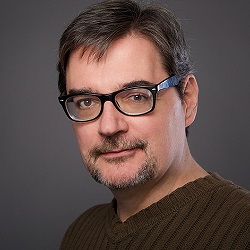 Phoef Sutton was born in Washington DC. He cut his eye teeth as a playwright, but first made a living as a writer in TV. He worked on the classic NBC series CHEERS for eight years, and went on to write movies (THE FAN, MRS. WINTERBOURNE) and also serve as consulting producer and writer for BOSTON LEGAL and TERRIERS. He lives in South Pasadena, CA and Vinalhaven ME with his wife and two daughters.