A Cut for a Cut by Carol Wyer – Book Review
A Cut for a Cut by Carol Wyer – Book Review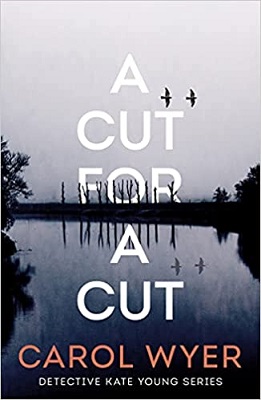 A Cut for a Cut
Detective Kate Young Book Two
Author – Carol Wyer
Publisher – Thomas & Mercer
Pages – 365
Released – 29th June 2021
ISBN-13 – 978-1542020930
Format – ebook, paperback, audio
Rating – 5 Stars
I received a free copy of this book.
This post contains affiliate links.


Synopsis
DI Kate Young can't trust anybody. Not even herself.
In the bleak countryside around Blithfield Reservoir, a serial murderer and rapist is leaving a trail of bloodshed. His savage calling card: the word 'MINE' carved into each of his victims.
DI Kate Young struggles to get the case moving―even when one of the team's own investigators is found dead in a dumpster. But Kate is battling her own demons. Obsessed with exposing Superintendent John Dickson and convinced there's a conspiracy running deep in the force, she no longer knows who to trust. Kate's crusade has already cost her dearly. What will she lose next?
When her stepsister spills a long-buried secret, Kate realises she's found the missing link―now she must prove it before the killer strikes again. With enemies closing in on all sides, she's prepared to do whatever it takes to bring them down. But time is running out, and Kate's past has pushed her to the very edge. Can she stop herself from falling?
When you pick up a crime thriller and see it's written by Carol Wyer, you know you're in safe hands and this book just reinforces that knowledge.
At the heart of the DI Kate Young series is a conspiracy, senior police officials are involved in a sex trafficking ring and are responsible for the deaths and disappearances of people who get too close to uncovering the truth, Kate knows this as her journalist husband was killed last year while he was secretly investigating these people. This narrative thread is continued in this story, though it takes something of a backburner to the active case that Kate and her team are working on.
Women are being targeted by an incredibly violent serial rapist and it's a race against time to stop him. Rather than the reader knowing who is responsible, we are forced to feel the frustrations of the investigation as it moves at a maddeningly slow pace – these things take time and leads have to be followed up, even if they come to nothing. But when DI Young's memory is sparked by something the perpetrator says, she realises that this isn't the first time she's come across this guy.
The characters in this book are all incredibly complex and well written, they're all becoming better acquainted and the dynamic is an interesting one – the team don't all like each other (which colleagues often don't!) and Kate, as their supervisor, has to try to keep them all in line.
Her character is particularly interesting, she's starting to come out of the haze of grief after the loss of her husband and see things around her more clearly. The realistic part here is that the grief keeps washing over her in waves, even though it's not as bad as it was before – then the guilt about not feeling the grief starts to kick in.
I love this series and its characters, the complexity of plot and personalities always come to mind when I think about this author.
Purchase Online From:
---
What did you think of 'A Cut for a Cut'? Share your thoughts in the comment section below!
---
The above links are affiliate links. I receive a very small percentage from each item you purchase via these link, which is at no extra cost to you. If you are thinking about purchasing the book, please think about using one of the links. All money received goes back into the blog and helps to keep it running. Thank you.
Like us on Facebook – Tweet us on Twitter – Pin us on Pinterest – Join us on Instagram