An Eye for an Eye by Carol Wyer – Book Review
An Eye for an Eye by Carol Wyer – Book Review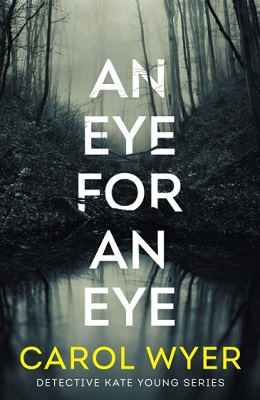 An Eye for an Eye
Detective Kate Young Book One
Author – Carol Wyer
Publisher – Thomas & Mercer
Pages – 428
Released – 1st February 2021
ISBN-13 – 978-1542020985
Format – ebook, paperback, audio
Rating – 5 Stars
I received a free copy of this book.
This post contains affiliate links.


Synopsis
A killer running rings around the police. A detective spiralling out of control.
DI Kate Young is on leave. She's the force's best detective, but her bosses know she's under pressure, on medication and overcoming trauma. So after her bad judgement call leads to a narrowly averted public disaster, they're sure all she needs is a rest.
But when Staffordshire Police summon her back to work on a murder case, it's a harder, more suspicious Kate Young who returns. With a new ruthlessness, she sets about tracking down a clinical, calculating serial killer who is torturing victims and leaving clues to taunt the police. Spurred on by her reporter husband, Young begins to suspect that the murderer might be closer than she ever imagined.
As she works to uncover the truth, Young unravels a network of secrets and lies, with even those closest to her having something to hide. But with her own competence—and her grip on reality—called into question, can she unmask the killer before they strike again?
Author Carol Wyer is back with a brand new detective thriller. In An Eye for an Eye, DI Kate Young who was on leave from the department after a traumatic experience is called back in to head up a team who initially are put together to deal with a high-profile death.
Whilst they are still investigating the first murder a second body is found and it seems the two are linked. Can Kate keep a clear head and keep her nightmares and visions from her trauma at bay long enough to solve the cases, or before more bodies are found?
DI Kate Young is a sharp, wise, energetic character who has been through a harrowing ordeal that left her with PTSD. Throughout the book, we get to read snippets of what happened to Kate on a train journey. How helpless she felt and scarred that she couldn't do more to help. After reliving the ordeal on another train journey and nearly injuring an innocent person Kate is asked to take some leave from her job.
When she is asked to return she isn't sure it is the right thing to do but she also knows that she has to go back to work at some point. Her judgement is clouded a little and she is harsher on the people caught up in her investigation.
The plot is intense and full-on. There are numerous twists, turns, and red-herrings. Everyone lies and numerous people could be the killer which keeps you guessing right to the end. Are we also looking for one murderer or two working together?
The writing is perfect and the excitement ebbs and flows, though it completely intensifies as you reach over the 50% mark. I like that our main character is not perfect. Yes, she is the department's top detective but her ordeal has caused her to not be quite so level-headed at times. I also love that her journalist partner gets to play a part in helping her see logically and for being there so that she can bounce some ideas off him.
The ending was spot on and I like that it has led us onto book two, (which I can't wait to read), without the need for a big cliff-hanger, more a revelation.
Purchase Online From:
---
What did you think of 'An Eye for an Eye'? Share your thoughts in the comment section below!
---
The above links are affiliate links. I receive a very small percentage from each item you purchase via these link, which is at no extra cost to you. If you are thinking about purchasing the book, please think about using one of the links. All money received goes back into the blog and helps to keep it running. Thank you.
Like us on Facebook – Tweet us on Twitter – Pin us on Pinterest