The Country Village Summer Fete by Cathy Lake – Book Review
The Country Village Summer Fete by Cathy Lake – Book Review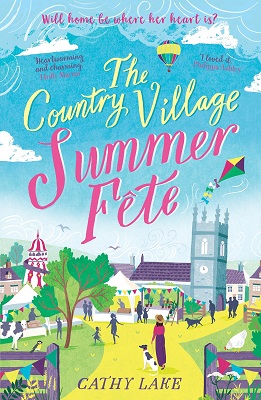 The Country Village Summer Fete
Author – Cathy Lake
Publisher – Zaffre
Pages – 400
Released – 10th June 2021
ISBN-13 – 978-1838772826
Format – ebook, paperback, audio
Rating – 4 Stars
I received a free copy of this book.
This post contains affiliate links.


Synopsis
Emma Patrick's life is spiralling out of control. On the cusp of her 50th birthday, she realises that she's been so focused on work that she's lost any real connection to people.
When Emma's ageing father needs her help, she decides to go back home to the countryside to spend some time with him. But returning to Little Bramble after years away is filled with complications and people she'd rather avoid.
To her surprise, as Emma settles in she finds herself loving village life. When the opportunity to get involved in the running of the summer fête comes her way, soon she's embracing jam making, cake baking and bunting. And with romance brewing, Emma begins to doubt the glamorous city life that she worked so hard to build . . .
Forty-nine-year-old Emma Patrick is having a tough time. She realises she is at melting point when she finds herself in her local Tesco in the early hours of the morning in her pyjamas. She realises she needs a break but what she gets is a phone call from her father's doctor telling her that he is unwell and needs tests to see if he has dementia.
Emma heads back to the family home in the countryside to Little Bramble a place that she left many years ago to stay with her father, as there is no one else who can be there for him. Surprisingly she finds that she enjoys being back home more than she thought she would and even gets involved in this year's summer fête. Is Emma ready to give up city life for a more laidback one?
The Country Village Summer Fete is the second book in the 'The Country Village' series by Cathy Lake. The books are standalone with them all being set in the same village but each one featuring different main characters. I haven't read the first book, but with them not being directly connected I didn't have any trouble following the plot or the characters.
The story revolves around two main characters, our protagonist Emma Patrick and shorter chapters from villager Connor who is having a hard time accepting that his daughter Grace is off to work in Paris for a while, leaving him alone, except for an annoying ex-partner.
I was sucked into the plot from the beginning. Emma was a fabulous character. She was flawed, overworked, feeling lonely, and pressurise. It was nice to see a realistic character, one that I am sure many people can connect with. It was also nice for the main characters to be older than the usual twenty-somethings.
The Country Village Summer Fete is a delightful read. It has that escapism feel to it and is warm and inviting. It is as bright and cheerful on the inside as that cover looks.
Purchase Online From:
---
What did you think of 'The Country Village Summer Fete'? Share your thoughts in the comment section below!
---
The above links are affiliate links. I receive a very small percentage from each item you purchase via these links, which is at no extra cost to you. If you are thinking about purchasing the book, please think about using one of the links. All money received goes back into the blog and helps to keep it running. Thank you.
Like us on Facebook – Tweet us on Twitter – Pin us on Pinterest – Join us on Instagram