Burglars & Blintzes by Morgan C. Talbot – Book Review
Burglars & Blintzes by Morgan C. Talbot – Book Review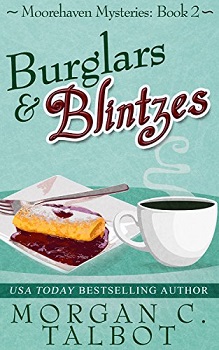 Burglars & Blintzes
Moorehaven Mysteries Book Two
Author – Morgan C. Talbot
Publisher – Red Adept Pub
Pages – 310
Released – 20th July 2018
ISBN-13 – 978-1948051149
Format – ebook, paperback
Reviewer – Linda
Rating – 4.5 Stars
I received a free copy of this book
Post contains affiliate links.
Moorehaven is swarming with guests during summer's last hurrah, and Pippa has her hands full at the mystery-author B&B. When her gossip-group connections inform her that a local construction project has unearthed a skeleton with a pocketful of Spanish gold, the news spreads, and treasure hunters flood the beaches. But the skeleton has a more recent connection to the area than anyone suspected, unearthing a shameful secret that hits far too close to home.
A marine salvage team rolls into town, seeking the rest of the treasure. When they hire Pippa's boyfriend, Lake, to be their pilot, the team's pretty spelunker quickly stakes a claim, rousing Pippa's jealousy. But Pippa's been playing tug-of-war over Lake ever since his ex-wife, Mallory Tavish, became the new acting chief of police.
When a killer's strike brings tragedy to Moorehaven's door, Pippa must rally her friends, family, and mystery-writing guests to catch the murderer before she loses someone she can't live without and all the warmth of summer dies with one last gasp.

This is the second book in the Moorehaven Mysteries Series from author Morgan C. Talbot. Moorehaven is a Bed and Breakfast run by Pippa and her Uncle Hilt. It is unique in that it is solely for authors to come and stay, they then can write their novels, meet in groups to discuss their writing and/or plots. The house was originally owned by an author Raymond Moore who died and left it to Hilt, who converted it in to a B&B.
As in the first book Smugglers and Scones there is a mystery to solve and delicious food! Burglars and Blintzes is written from Pippa's point of view, I really love her character, she is running the B&B, she's there for her authors and also for her friends. She loves her uncle Hilt and boyfriend Lake and she goes above and beyond to help everyone and anyone.
Moorhaven Mystery Two was like putting on a favourite cardi. Having read the first book it was so lovely to connect with all the previous main characters again. I couldn't wait to read it and wasn't disappointed. It has been well written has a good choice of language and a convincing plot, which developed throughout the book. The outcome wasn't predictable so kept the anticipation right to the end. It is packed full of action beginning with a tsunami, which Pippa and her guest watch from the B&B rooftop. Pippa and Lake take on some heroic tasks all of them plausible and relevant to the storyline. Also a nice touch of ending the book with a recipe for Blintzes!
I Definitely recommend Burglars & Blintzes as it is a really good read made more enjoyable as I had read the first book in the series. If you are going to read this book, make sure you read book one, Smugglers and Scones, first.
Reviewed by Linda
---
Purchase online from:
---
About the Author

USA Today Bestselling Author Morgan C. Talbot is an outdoorsy girl with a deep and abiding love for the natural sciences. Her degrees involve English and jujitsu. She enjoys hiking, camping, and wandering in the woods looking for the trail to the car, but there isn't enough chocolate on the planet to bribe her into rock climbing.
When she's not writing, she can be found making puzzles, getting lost on the way to geocaches, reading stories to her children, or taking far too many pictures of the same tree or rock.
Morgan is a member of Sisters in Crime and Mystery Writers of America and served as a panelist at Left Coast Crime 2015: Crimelandia. She lives in Eastern Washington with her family.




---