Cold Fire by James Hartley – Book Review
Cold Fire by James Hartley – Book Review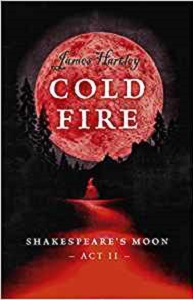 Cold Fire
Shakespeare's Moon, Act II
Author – James Hartley
Publisher – Lodestone Books
Pages – 208
Released – 31st August 2018
ISBN-13 – 978-1785357626
Format – ebook, paperback
Reviewer – Stacey
Rating – 4 Stars
I received a free copy of this book
Post contains affiliate links.
Set in the magical boarding school of St Francis', Cold Fire centres around a group of teenagers who become involved in the tale of Romeo and Juliet in this contemporary re-telling of the classic story.
Meanwhile, four hundred years earlier, a young teacher from Stratford Upon Avon arrives at the school. His name is Will… From the author of The Invisible Hand comes the second book in the spellbinding Shakespeare´s Moon series.

Once again we visit the magical Scottish boarding school of St Francis'. In the first book, 'The Invisible Hand' we were given a re-telling of Macbeth, this time we are treated to a re-telling of Romeo and Juliet like you have never seen before.
Friends Gillian, Kizzie, Sol, Angela, and Zak are all residents and pupils of the boarding school. Gillian has been having soon issues with her parents are is glad to be back at school. One afternoon a boy appears on the school football pitch naked, he is speaking some strange language which the pupils think might be Latin. Seen as Gillian has studied it they send her to talk to him.
However, not much talking occurs, the two end up kissing. She finds herself pulled to him and him to her. She is warned to stay away from him as he is unnatural, but the two lives have become entangled in the past and they are very much in love in the present too.
I really loved The Invisible Hand, and whilst this book was enjoyable I did prefer the first book, I think it may have something to do with Macbeth being the only Shakespeare play I have studied.
The book is well written and told over the course of one week. The shift between the past and the present is done effortlessly and with a natural flow. The story of Romeo and Juliet came across strongly and this book would be perfect for anyone about to study the play that surrounds young love, a love that is forbidden.
The characters were all warm and easy to like and the setting was written in such a manner that you could easily visualise being at the school, whether in today's time or 400 years ago.
The books can be read as stand alone as there are no cross-references to the first book. I am now looking forward to seeing which of the Bard's plays author James Hartley chooses for his next book.
Reviewed by Stacey
---
Purchase online from:
---
About the Author

James was born on the Wirral, England, in 1973 on a rainy Thursday. He shares his birthday with Bono, Sid Vicious and two even nastier pieces of work, John Wilkes Booth and Mark David Chapman.
His mother was a hairdresser with her own business and his father worked in a local refinery which pours filth into the sky over the Mersey to this day. They married young and James was their first child. He has two younger brothers and a still-expanding family in the area. As an Everton fan he suffered years of Liverpool success throughout the seventies and was thrilled when his father took a job in Singapore and the family moved lock, stock and two smoking barrels to Asia.
He spent five fine years growing up in the city state before returning to the rain, storms, comprehensive schools and desolate beauty of the Scottish east coast. Later years took he and his family to baking hot Muscat, in Oman, and a Syria that has since been bombed off the surface of the planet.
James studied journalism in London and later travelled through Ireland, France, Germany and India generally having a good time, before finally settling in Madrid, Spain, where he now lives with his wife and two young children.
James loves writing and reading – the former a compulsion, the latter a pleasure – as well as running, boxing, eating, drinking and trying to see, and enjoy, the good things in life.