The Princess in Black and the Science Fair Scare by Shannon & Dean Hale – Book Review
The Princess in Black and the Science Fair Scare by Shannon & Dean Hale – Book Review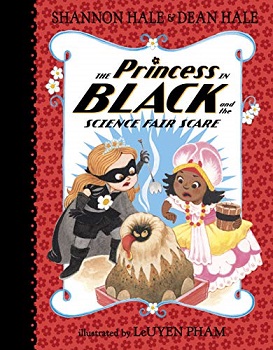 The Princess in Black and the Science Fair Scare
Author – Shannon & Dean Hale
Publisher – Walker Books
Pages – 96
Released – 7th March 2019
ISBN-13 – 978-1406385427
Format – ebook, paperback, audio
Reviewer – Stacey
Rating – 5 Stars
I received a free copy of this book.
This post contains affiliate links.
Princess Magnolia is excited. Excited and nervous. She's going to the Interkingdom Science Fair today to present her poster about seeds and plants, and when she arrives, she sees that her friends are there too!
Princess Honeysuckle made a mole habitat, Princess Sneezewort has built a blanket fort, and Tommy Wigtower has a talking volcano that's saying "EAAAAT!" Wait, what? A surprise goo monster makes this a job for the Princess in Black, and the Princess in Blankets is on the scene to lend a hand.
But will two masked heroes be enough to save the science fair? A little scientific problem-solving — and a lot of princess power — will make the sixth entry in the New York Timesbest-selling series a smash hit.
Princess Magnolia is attending her first Interkingdom Science Fair where she will be showing her poster about how seeds turn into plants. Whilst she is away from her castle she leaves The Goat Avenger in charge of dealing with the monsters – She's hoping to have a monster free day.
When she arrives at the fair she meets up with her friends, Princess Orchid, Princess Sneezewort, Princess Snapdragon, and Princess Honeysuckle who are all there hoping to win first prize for their science projects.
On looking around the other projects Princess Magnolia comes across a talking volcano. Turns out that whilst trying to make his volcano erupt, Tommy Wigtower made a monster inside instead. It's time for Princess Magnolia to become 'The Princess in Black' and save the day – With a little help from her friends, including 'The Princess in Blankets'.
This is the third book in the Princess in Black series that I have read. I read 'The Princess in Black Takes a Holiday' last year and 'The Princess in Black and the Mysterious Playdate' last week. Each book gets better and better as the series evolves.
The books are all filled to the brim with amazing artwork from illustrator LeUyen Pham which truly brings the story to life. This is a series that all little girls should be reading. It shows how a feminine young girl who happens to be a princess and loves the colour pink becomes a tough monster-fighting superhero princess.
The stories are all enjoyable and with there being six books in the series at present there are lots of adventures for children to get through.
Reviewed by Stacey
---
Purchase online from:
---
The above links are affiliate links. I receive a very small percentage from each item you purchase via these link, which is at no extra cost to you. If you are thinking about purchasing the book, please think about using one of the links. All money received goes back into the blog and helps to keep it running. Thank you.
Blog posts straight to email via Bloglovin – Like us on Facebook – Follow us on Twitter