Monty And Friends African Adventure by M.T. Sanders – Book Review
Monty And Friends African Adventure by M.T. Sanders – Book Review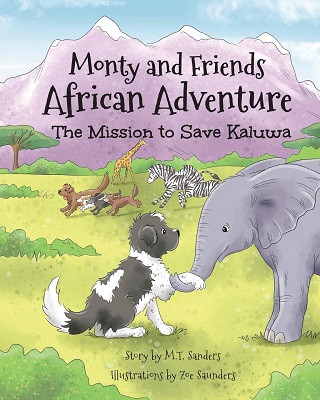 Monty And Friends African Adventure
The Mission To Save Kaluwa
Author – M.T. Sanders
Illustrator – Zoe Saunders
Publisher – 2QT Limited
Pages – 38
Released – 1st March 2020
ISBN-13 – 978-1913071516
Format – paperback
Review by – Stacey
Rating – 5 Stars
I received a free copy of this book.
This post contains affiliate links.


Now famous after their ocean rescue, Monty, Cookie and the spangles were looking forward to a well-earned rest. But when a letter arrives from Africa they need to act fast. Kaluwa a baby Elephant is being held captive and what follows is a race against time to rescue her. But will they be too late?

Monty the dog and his friends are back in their sixth book, this time the animals are off to Africa and their help is needed once again this time to save a baby elephant.
After their successful mission in book five, Monty and the Ocean Rescue, the dogs have become very popular and people come from all over to see them and write them fan mail. One day they receive a letter asking for their help as a baby elephant has been taken by poachers and is due to spend the rest of her life in a circus performing tricks for people.
The dogs decide that they have to help her and so set off on a flight to Africa, but once on the ground they soon realise that this mission won't be easy as not one baby elephant has been caught but five. Can they rescue them all?
Monty And Friends African Adventure: The Mission To Save Kaluwa is another beautiful book to add to an already amazing collection. I have had the pleasure of reading five of them now and I must pick up the missing one as these books are a whole lot of fun and educational too.
Each page is filled with bright, colourful illustrations that bring the rhyming words to life. The plot is a delicate introduction into poaching and what happens to the animals. The author has also added some useful internet sites on his page that you can check out that tell children more about poachers and hunters.
I just love this book, in fact, I love all of Monty's books as he is such an amazing character, based on a real dog. The subject matter is always handled with care and compassion whilst still keeping the story fun and enjoyable.
Book Reviewer – Stacey
---
Purchase online from:
---
About the Author
Monty is a Newfoundland dog who enjoys nothing more than writing books poetry and blogs helped by his hoomans. I'm not a Pandacow is the first in a series of books about Monty's adventures and has proved an instant hit. Apart from his literary skills Monty is an accomplished fundraiser for various charities and regularly visits schools and nursing homes.
MT Sanders is a writer, blogger and author of the children's book Monty and the Ocean Rescue. An accidental career began after he took early retirement and began writing stories on social media about his five dogs. Life according to Monty Dogge soon attracted a huge following and led to invites to blog live from Crufts and other high-profile events.
In 2017 and 2018 Vuelio placed it in the top ten UK pet blogs and the still growing readership encouraged MT to write a book. I'm not a Pandacow was the debut children's book released in 2017 and this has been quickly followed by four more to date.
MT and Monty spend the major part of their time touring schools across the country bringing the tales to life as children get to meet the star of the books.
The latest book is a real passion project for the author who is a huge supporter of conservation projects and a champion for animal welfare. It goes without saying that MT was delighted to receive a handwritten message of good luck from no other than Sir David Attenborough.





---
What did you think of Monty And Friends African Adventure? Share your thoughts in the comment section below!
---
The above links are affiliate links. I receive a very small percentage from each item you purchase via these link, which is at no extra cost to you. If you are thinking about purchasing the book, please think about using one of the links. All money received goes back into the blog and helps to keep it running. Thank you.
Like us on Facebook – Tweet us on Twitter – Pin us on Pinterest