Rain Before Rainbows by Smriti Halls – Book Review
Rain Before Rainbows by Smriti Halls – Book Review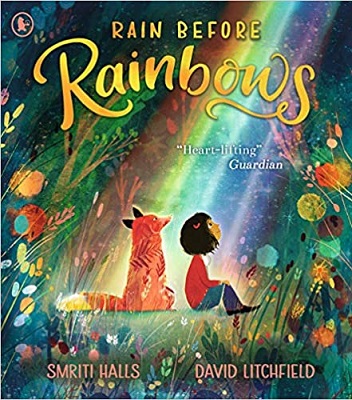 Rain Before Rainbows
Author – Smriti Halls
Illustrator – David Litchfield
Publisher – Walker Books
Pages – 32
Released – 22nd April 2021
Format – ebook, paperback, hardcover
Rating – 5 Stars
I received a free copy of this book.
This post contains affiliate links.


Synopsis
An uplifting, stunningly beautiful book about optimism in the darkest of places.
A girl and her companion fox travel together from a place of loss and despair, through uncertain times, towards the hope of colour, light and life. Along the way, they find friends to guide and support them. Together, they build a glorious future and discover there is a way out of the darkness, into the light of the rainbow.
A book with immense hope at its heart, this is a positive message for anyone who's ever gone through a tough time.
Rain Before Rainbows is a children's picture book that I have already read three times. The first time I read through it I marvelled at the beautiful artwork that adorned each page. These full-page illustrations are simply beautiful, they capture the eye with their soft colours and delightful scenes with so much to take in.
The second time I took note of the rhyming words and as the book progressed my thoughts turned to the book being more of a metaphor regarding the child, a young girl and her fox friend going through a tough time. I read it as the girl was going through some mental health challenges and the book was showcasing her bad thoughts and then there was a brighter new day.
However, the third time I noticed the castle on fire which is set before the story begins and I had missed it. This then took the plot in a different direction for me as it then was about a young girl and her fox friend having to travel over mountains, through stormy seas to get away from their home that had been destroyed and finding a new place.
Whichever way you read this book one thing is certain, it truly is amazing. It is comforting, engaging, captivating, and it makes you want to read it over and over again as well as hopefully making children understand that even though there are sometimes dark days in their life that after the dark the light will come.
Purchase Online From:
---
What did you think of 'Rain Before Rainbows'? Share your thoughts in the comment section below!
---
The above links are affiliate links. I receive a very small percentage from each item you purchase via these link, which is at no extra cost to you. If you are thinking about purchasing the book, please think about using one of the links. All money received goes back into the blog and helps to keep it running. Thank you.
Like us on Facebook – Tweet us on Twitter – Pin us on Pinterest – Join us on Instagram