The Midnight Guardians by Ross Montgomery – Book Review
The Midnight Guardians by Ross Montgomery – Book Review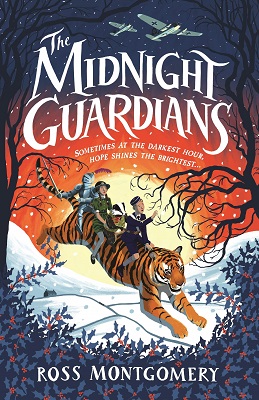 The Midnight Guardians
Author – Ross Montgomery
Publisher – Walker Books
Pages – 400
Released – 5th November 2020
ISBN-13 – 978-1406391183
Format – ebook, paperback, audio
Rating – 5 Stars
I received a free copy of this book.
This post contains affiliate links.


Synopsis
Sometimes at the darkest hour, hope shines the brightest…
When Col's childhood imaginary friends come to life, he discovers a world where myths and legends are real. Accompanied by his guardians – a six-foot tiger, a badger in a waistcoat and a miniature knight – Col must race to Blitz-bombed London to save his sister.
But there are darker forces at work, even than the Nazi bombings. Soon Col is pursued by the terrifying Midwinter King, who is determined to bring an eternal darkness down over everything.
Set during World War Two, The Midnight Guardians is a middle-grade story about one young boy, Col, who has lost his father just six-months previous and has been evacuated to Buxton to live with his Aunt.
Col's mother left when he was a baby and his older sister Rose is working in London, so can't take care of him. When he is let down a few days before Christmas he runs off to his old family's home where he discovers his three imaginary friends, including Mr Noakes, a Badger. Pendlebury a Tiger and King of Rogues, a knight have been waiting for him.
The friends explain that Rose is in danger and that they must travel to London to save her from an incoming bomb strike. However, the friends shouldn't be in the real world and the Mid-Winter King who rules the land two seasons of the year wants them back and has put his spies everywhere looking for them as he thinks they are trying to save The Green Man who rules the land the other two seasons as he has banished him so that he can keep it winter all year round.
Can they travel across the land to get to London, in time to save Rose and without being caught?
This is a beautiful, mystical, and magical tale that brings together family, love, and friendship. The story is inviting and imaginative and I didn't want to put it down or for it to end. It is pure escapism in a book.
The characters are relatable, even the imaginary friends have traits you see in a lot of people. Col, although just a young boy is wise beyond his years, I think a lot of children who were living through the war were, they had to be resourceful, learn to live with death and destruction as well as being separated from their families.
The book is like two plots that interweave themselves into one story. You have the friends and their travels to London and the adventures that happen along the way. Then there is the nasty Mid-Winter King who wants power no matter how he gets it or what pain and mayhem he causes to get it, including banishing The Green Man so that he can rule all year round.
The book is atmospheric and if you are reading this in the winter then you are part way there to feeling what the characters feel every day. It certainly will make you feel chilly with the raging snowstorm that is there for most of the book as the Mid-Winter King's powers grow stronger.
Purchase Online From:
---
What did you think of 'The Midnight Guardians'? Share your thoughts in the comment section below!
---
The above links are affiliate links. I receive a very small percentage from each item you purchase via these link, which is at no extra cost to you. If you are thinking about purchasing the book, please think about using one of the links. All money received goes back into the blog and helps to keep it running. Thank you.
Like us on Facebook – Tweet us on Twitter – Pin us on Pinterest