Maddy Yip's Guide to Holidays by Sue Cheung – Book Review
Maddy Yip's Guide to Holidays by Sue Cheung – Book Review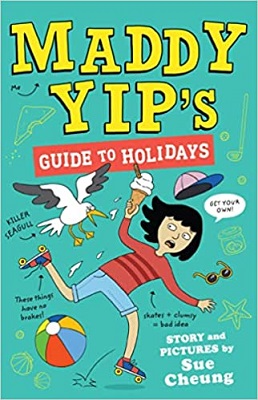 Maddy Yip's Guide to Holidays
Author – Sue Cheung
Publisher – Andersen Press
Release Date – 5th May 2022
Pages – 272
ISBN 13 – 978-1839131974
Format – ebook, paperback
Star Rating – 5
I received a free copy of this book.
This post contains affiliate links.

Synopsis
Another side-splitting story packed with hilarious illustrations from Sue Cheung, winner of the Diverse Book Award.
The Easter holidays are about to get a lot more exciting! Maddy and her best friend Dev have lucked out and are heading to the seaside where the brand new roller coaster, the Mega Beast, is about to open. This will literally be life-changing! One problem: Maddy has to bring her annoying little brother Oli and her cheeky grandad Agung along for the weekend.
With seaside hazards such as terrifying seagulls, stinky pickled eggs and a giant candyfloss-mad dog to deal with, will Maddy ever get to loop-the-loop on the best ride ever?
It's the Easter holidays and Maddy Yip is bored, she can't even spend time alone in her bedroom as she shares it with her little brother Oli who is hogging it.
When Maddy messes up her bedroom carpet, just before her childminder mother is about to be inspected, she is shipped off to a bed & breakfast at the seaside with Oli, her best friend Dev, and her grandfather whilst her parents put down new carpet.
The one good thing about the seaside though is that the 'Mega Beast' rollercoaster is there and Maddy needs to get on it, but there is a problem. As it is the opening week for the ride, riders need a voucher from the local paper to board it and it seems that there are no papers anywhere, and they need three.
Join Maddy, Dev, Oli, and Grandad as they set about locating the newspapers, anywhere, with some hilarious results.
I read and reviewed the first Maddy Yip book last year and found it quite amusing, so I was looking forward to reading this one. Maddy Yip's Guide to Holidays is perfect for middle-grade readers with its hilarious plot, fun characters, and wacky laugh-out-loud cartoon-esq illustration dotted throughout.
I read it in two days and can easily see younger readers loving this book. It has everything they could want, from characters they can love, and hate, crazy but realistic moments, and plenty of jeopardies to keep them engaged.
I hope there are more Maddy Yip books to come as author Sue Cheung has created a series that I can see being a hit with its readers.
---
Purchase Online:
Sue Cheung

Sue Cheung was born in the Midlands and spent her early years clowning about and busily scribbling and drawing. At the age of 16 she seized her chance to become an artist by winning a scholarship to the London College of Fashion. Later, Sue went into advertising and worked her way up to Art Director.
She now freelances as a designer from her home in Bournemouth, where she writes and illustrates children's books. She also writes under the name of Sue Pickford.
Author Links:
---
The above links are affiliate links. I receive a very small percentage from each item you purchase via these links, which is at no extra cost to you. If you are thinking about purchasing the book, please think about using one of the links. All money received goes back into the blog and helps to keep it running. Thank you.