Final Shadows by Julie Haiselden – Cover Reveal
Final Shadows by Julie Haiselden – Cover Reveal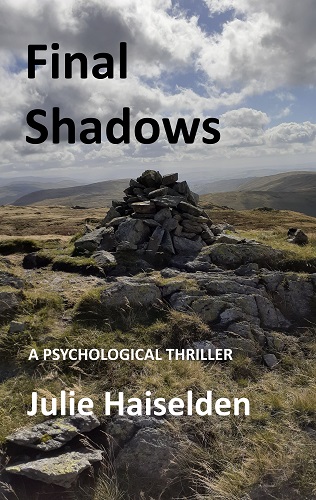 Final Shadows
Author – Julie Haiselden
Release Date – 22nd June 2022
Format – ebook
Synopsis
Blenthorne is a typical Cumbrian village; bustling in summer when tourists explore all the fells have to offer and quiet in winter when the locals settle down to a comfortable familiar routine.
Entrepreneur, Lizzie Lockwood, has lived there for many years. Her life has been rocky at times but nothing can prepare her for the chain of events set in motion when affluent outsider, Sir Ashley Duncan, purchases a local estate. His development plans create community
consternation but inexplicably, Lizzie supports him, why?
A sudden disappearance, unwelcome new arrivals and the tragic death of a dear friend, all conspire to send Lizzie's life into a tailspin. As time moves on, the guilt she feels for being a catalyst is all-consuming and she wonders if her only solution is to pay the ultimate price…
Julie Haiselden

In 2015, my debut novel, Long Shadows was published. My second offering is a Victorian thriller, Evil Echoes and my third, Reasonable Doubt? is a contemporary, and my fourth Final Shadows will be published soon.
In a past life, I used to be a medical secretary, tread the boards and shout the odd stage direction. Currently, I work as a church verger and when I'm not writing, reviewing or blogging, I give talks to local groups. I am also a room guide for the National Trust. I am blessed with a marvellous home life as a wife, mother and grandmother.
Author Links:
---