Flappy Entertains by Santa Montefiore – Book Review
Flappy Entertains by Santa Montefiore – Book Review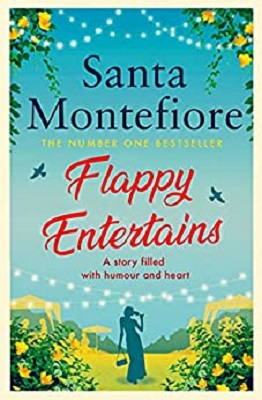 Flappy Entertains
Author – Santa Montefiore
Publisher – Simon & Schuster UK
Release Date – 4th March 2021
Pages – 253
ISBN 13 – 978-1398500365
Format – ebook, paperback, hardcover, audio
Star Rating – 4
I received a free copy of this book.
This post contains affiliate links.

Synopsis
From the beloved bestselling author Santa Montefiore comes a new novel filled with humour and heart. For fans of The Temptation of Gracie, Flappy now takes centre stage, more charismatic and competitive than ever.
Underneath her graceful exterior lies a passion nobody knew about, least of all Flappy herself…
Flappy Scott-Booth is the self-appointed queen bee of Badley Compton, a picturesque Devon village. While her husband Kenneth spends his days on the golf course, she is busy overseeing her beautiful house and gardens, and organising unforgettable events, surrounded by friends who hang on to her every word.
Her life is a reflection of herself – impossibly perfect.
Until the day that Hedda Harvey-Smith and her husband Charles move into the village. Into an even grander home than hers. Taking the front seat on the social scene, quite literally.
That simply will not do.
Flappy is determined to show Hedda how things are done here in Badley Compton. But then she looks into Charles's beautiful green eyes. And suddenly, her focus is elsewhere. She is only human, after all…
We meet Flappy Scott-Booth, thinking she is the most important person living in Badley Compton in Devon and acting as if she owns the place. She is the one everyone wants to be like and she makes no bones about making sure everyone knows this.
When Hedda Harvey-Smith and her husband Charles moved into the village, Flappy gets her nose put out of joint and suddenly thinks that she may lose her status in the village. As she tries to befriend Hedda, she is also getting to know Husband her Charles, who reciprocates Flappy's advances and they embark upon an affair.
I enjoyed all the things Flappy was part of in the village, like the book club and yoga. She also knows how to throw a good party as well.
The story had some great supporting characters which we got to know a little about along the way.
Although Flappy wasn't quite likeable at the beginning of the book, she could be really annoying, she soon grew on me and she pulls you into her world.
Santa Montefiore delivers a feel-good fun story, complete with lots of vivid descriptions of the surrounding areas which put the reader right there in the middle of Flappy's life.
---
Purchase Online:
Author name
Born in England in 1970 Santa Montefiore grew up on a farm in Hampshire and was educated at Sherborne School for Girls. She read Spanish and Italian at Exeter University and spent much of the 90s in Buenos Aires, where her mother grew up. She converted to Judaism in 1998 and married historian Simon Sebag Montefiore in the Liberal Jewish Synagogue in London. They live with their two children, Lily and Sasha in London.
Santa Montefiore's novels have been translated into twenty languages and have sold more than three million copies in England and Europe.
Author Links:
---
The above links are affiliate links. I receive a very small percentage from each item you purchase via these links, which is at no extra cost to you. If you are thinking about purchasing the book, please think about using one of the links. All money received goes back into the blog and helps to keep it running. Thank you.