The Brief by Simon Michael – Book Review
The Brief by Simon Michael – Book Review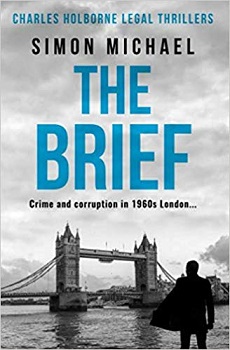 The Brief
Crime and corruption in 1960s London
Author – Simon Michael
Publisher – Sapere Books
Pages – 277
Released – 9th June 2019
ISBN-13 – 978-1913028534
Format – ebook, paperback, audio
Reviewer – Marcia
Rating – 4 Stars
I received a free copy of this book.
This post contains affiliate links.
Guilty until proven innocent…
London, 1960
Barrister Charles Holborne is not popular. A Jewish East Ender with a rough past, he is ostracised by his anti-Semitic and class-conscious colleagues who don't want him in their prestigious Establishment profession.
And the bitterness Charles feels at work is spilling over into his personal life, putting his marriage under strain.
When a high-profile murder case lands on his desk, Charles is hopeful his fortunes will turn around. But after a shocking crime is committed, he finds himself on the other side of law…
Can he outwit those trying to frame him? Will he manage to unmask the real criminal?
Or will he find himself on trial for murder…?

Barrister Charles Holborne believes that hiding/renouncing his Jewish heritage will help his legal career so he reinvents himself to try to play down his Jewish heritage in his job as a criminal Barrister. He believes that if his true identity is common knowledge it will hold him back in the legal world, especially as he is the only barrister at his law firm to be state-educated.
However, even after his reinvention he still struggles with his self-esteem, which in turn has a negative impact on his personal life and leaves him with trust issues where his colleagues are concerned.
Despite everything, he is good at his job. He wins cases and puts his heart and soul into his job, which unfortunately causes some marital issues with his wife Henrietta. Then something unimaginable happens and Charles has to fight to survive and questions everything he knows as he finds himself on the wrong side of the law trying to clear his name for a crime he did not commit.
I really enjoyed this book from start to finish. It is an easy thriller to read and I really liked Charles Holborne. Set amongst the violent troubles that plagued London in the 1960s, Charles Holborne can't see his career going anywhere if people find out he is Jewish. Much to his family and the Jewish communities disbelief and annoyance he turns his back on his heritage in the hope that he can keep it quiet and make his career in a world filled with upper-class people who were privately educated and went to the top universities.
The book is split into five sections and you get to stay with Charles as he is charged with a murder he didn't commit. He knows he's been set up but by who. Unfortunately, he has a reputation of taking down some of the most violent criminals in London, plus he isn't liked by many of his colleagues due to his high case wins rate, so he has his work cut out trying to find out who the real murderer is and clear his name at the same time. But the clock is ticking!
I was hooked to the entire plot and found myself eagerly reading every time I picked the book up. The story is very realistic and I could perfectly visualise all that was happening. The Brief is the first book in a series featuring Charles Holborne, if this first book is anything to go by, this is going to be one amazing series to read.
Book Reviewer – Marcia
---
Purchase online from:
---
About the Author

Simon Michael is the author of the best-selling London 1960s noir gangster series featuring his antihero barrister, Charles Holborne. Simon writes from personal experience: a barrister for 37 years, he worked in the Old Bailey and other criminal courts defending and prosecuting a wide selection of murderers, armed robbers, con artists and other assorted villainy.
The 1960s was the "Wild West" of British justice, a time when the Krays, Richardsons and other violent gangs fought for control of London's organised crime, and the corrupt Metropolitan Police beat up suspects, twisted evidence and took a share of the criminal proceeds. Simon weaves into his thrillers genuine court documents from cases on which he worked on the big stories of the 1960s.
Simon was published in the UK and the USA in the 1980s and returned to writing when he retired from the law in 2016. The Charles Holborne series, The Brief, An Honest Man, The Lighterman and Corrupted, have all garnered strong reviews for their authenticity and excitement. The fifth in the series, The Waxwork Corpse, will be published by Sapere Books later this year.
Simon's theme is alienation; Holborne, who dabbled in crime and serious violence before becoming a barrister, is an outsider both in the East End where he grew up and in the Temples of the Law where he faces daily class and religious prejudice. He has been compared to Raymond Chandler's Philip Marlowe and Dashiell Hammett's Sam Spade, honourable men surrounded by corruption and violence, trying to steer an honest course.




---
What did you think of the book? Share your thoughts in the comment section below!
---
The above links are affiliate links. I receive a very small percentage from each item you purchase via these link, which is at no extra cost to you. If you are thinking about purchasing the book, please think about using one of the links. All money received goes back into the blog and helps to keep it running. Thank you.