The Space Between Time by Charlie Laidlaw – Book Review
The Space Between Time by Charlie Laidlaw – Book Review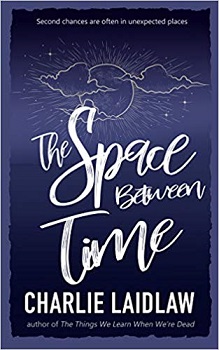 The Space Between Time
Author – Charlie Laidlaw
Publisher – Accent Press
Pages – 448
Released – 20th June 2019
ISBN-13 – 978-1786156945
Format – ebook, paperback, audio
Reviewer – Julie
Rating – 4 Stars
I received a free copy of this book.
This post contains affiliate links.
There are more stars in the universe than there are grains of sand on Earth…
Emma Maria Rossini appears to be the luckiest girl in the world. She's the daughter of a beautiful and loving mother, and her father is one of the most famous film actors of his generation. She's also the granddaughter of a rather eccentric and obscure Italian astrophysicist.
But as her seemingly charmed life begins to unravel, and Emma experiences love and tragedy, she ultimately finds solace in her once-derided grandfather's Theorem on the universe.
The Space Between Time is humorous and poignant and offers the metaphor that we are all connected, even to those we have loved and not quite lost.
'The Space Between Time' is the latest novel from Scottish-born author, Charlie Laidlaw. We meet Emma, our main character, as a child when she gives us a breakdown of her early life memories in the first person in a mixture of present and past tense.
Her grandfather, Alberto Rossini, is an Italian astrophysicist who was the first Professor of Theoretical Physics at Edinburgh University. Her father is a successful actor who was just beaten to the part played by Sean Connery in 'The Search for Red October' and her mother, a graceful, yet slightly unstable goddess-like creature who finds herself overwhelmed by the minutiae of life. With this pedigree, Emma definitely had an unusual and highly privileged upbringing.
Underpinning the story are references to Alberto Rossini's Universe Theorem, which I didn't really connect with.  In addition, we have a sprinkling of acting royalty with whom Emma's family rub shoulders on a regular basis.  The developing story is gentle and quite amusing and we have a few tantalising hints at deeper layers as we witness aspects of the dynamics between the famous film star and his beautiful wife, through the eyes of their daughter.
It is extremely hard to write from the perspective of a different gender in the first person and even harder for an adult to write from the perspective of a child. Nonetheless, in the first of the three parts, Charlie Laidlaw did a pretty good job in entertaining his audience; although, at times, Emma seemed very knowledgeable and intuitive for her age and at others, naïve in the extreme. I may have missed it, but I'm not totally sure how old she was supposed to be but I'm guessing early teens.
As she gets older, it becomes clear Emma has deep-rooted emotional issues. Through skilful use of imagery, Charlie Laidlaw paints a picture of a tortured lonely soul in desperate need of help.  Originally it seemed we were witnessing a light-hearted journey of an adolescent to adulthood but gradually the story becomes a much deeper, darker exploration of a downward spiral into psychosis.
I don't know if all the equations are accurate but assuming they are, then the author is indeed an accomplished mathematician. Whilst I got lost in the dark matter, quantum mechanics, black holes and particle physics, I have no doubt other readers will be able to engage with aspects of the tale that eluded me.  I can never fully appreciate a story that is too clever for me but it was well written with a neat little twist near the end.  For the innovative backdrop and emotionally-charged nature of the plot, I objectively award four stars.
Book Reviewer – Julie
---
Purchase online from:
---
About the Author

I was born in Paisley, central Scotland, which wasn't my fault. That week, Eddie Calvert with Norrie Paramor and his Orchestra were Top of the Pops, with Oh, Mein Papa, as sung by a young German woman remembering her once-famous clown father. That gives a clue to my age, not my musical taste.
I was brought up in the west of Scotland (quite near Paisley, but thankfully not too close) and graduated from the University of Edinburgh. I still have the scroll, but it's in Latin, so it could say anything.
I then worked briefly as a street actor, baby photographer, puppeteer and restaurant dogsbody before becoming a journalist. I started in Glasgow and ended up in London, covering news, features and politics. I interviewed motorbike ace Barry Sheene, Noel Edmonds threatened me with legal action and, because of a bureaucratic muddle, I was ordered out of Greece.
I then took a year to travel round the world, visiting 19 countries. Highlights included being threatened by a man with a gun in Dubai, being given an armed bodyguard by the PLO in Beirut (not the same person with a gun), and visiting Robert Louis Stevenson's grave in Samoa. What I did for the rest of the year I can't quite remember.
Surprisingly, I was approached by a government agency to work in intelligence, which just shows how shoddy government recruitment was back then. However, it turned out to be very boring and I don't like vodka martini.
Craving excitement and adventure, I ended up as a PR consultant, which is the fate of all journalists who haven't won a Pulitzer Prize, and I've still to listen to Oh, Mein Papa.
I am married with two grown-up children and live in East Lothian.





---
What did you think of the book? Share your thoughts in the comment section below!
---
The above links are affiliate links. I receive a very small percentage from each item you purchase via these link, which is at no extra cost to you. If you are thinking about purchasing the book, please think about using one of the links. All money received goes back into the blog and helps to keep it running. Thank you.
Like us on Facebook – Tweet us on Twitter – Pin us on Pinterest
If you enjoyed our post please feel free to share it using the social media links below.