The Necklace by Matt Witten – Book Review
The Necklace by Matt Witten – Book Review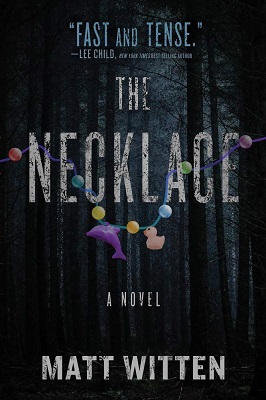 The Necklace
Author – Matt Witten
Publisher – Oceanview Publishing
Pages – 304
Released – 7th September 2021
ISBN-13 – 978-1608094585
Format – hardcover
Rating – 5 Stars
I received a free copy of this book.
This post contains affiliate links.


Synopsis
The clock ticks down in a heart-pounding crusade for justice
Susan Lentigo's daughter was murdered twenty years ago–and now, at long last, this small-town waitress sets out on a road trip all the way from Upstate New York to North Dakota to witness the killer's execution.
On her journey she discovers shocking new evidence that leads her to suspect the condemned man is innocent–and the real killer is still free. Even worse, her prime suspect has a young daughter who's at terrible risk. With no money and no time to spare, Susan sets out to uncover the truth before an innocent man gets executed and another little girl is killed.
But the FBI refuses to reopen the case. They–and Susan's own mother–believe she's just having an emotional breakdown. Reaching deep, Susan finds an inner strength she never knew she had. With the help of two unlikely allies–a cynical, defiant teenage girl and the retired cop who made the original arrest–Susan battles the FBI to put the real killer behind bars. Will she win justice for the condemned man–and her daughter–at last?
Despite the theme of this book, the opening paragraph going straight into a charity raising event organised by the local Church to fund Susan Lentigo's travel to North Dakota to witness her daughter, Amy's killer's execution on death row, is a strong hook and from then on I could not put this book down.
Twenty years ago, Susan Lentigo's seven-year-old daughter was raped and murdered. Having found and convicted the person responsible, FBI Agent Pappas was sure, following a confession, that they had got the right man. Susan has lived with the worst atrocity that any parent could ever experience, and the reminder is still in every one of her waking thoughts. The novel is written so passionately showing the rawness of her emotions past and present.
The chapter describing the night that Amy went missing is truly powerful. You can feel the anticipation and the build-up in Susan, knowing that as a parent, you would have experienced every single one of the emotions and the connection you feel for her and what she has and is still going through. She's a strong character and her flaws are limitless but that's what made me love the character and throw myself into her journey.
The book is very fast paced and despite knowing the loss that will always be there, Susan is so fair and kind and loveable that you just want something positive to happen to her.
The relationship that she has clearly built with her mother despite being utterly let down by her after Amy's abduction is really very heart-warming as is the relationship that she has with Agent Pappas and Kyra, a teenage drop-out who helps her during her journey to North Dakota.
To say I couldn't put this book down is an understatement because despite the prospect of knowing that when the author goes back in time, and therefore having to be back to the raw loss of Amy, I just wanted to know what was going to happen next.
The twist at Susan's realisation that perhaps the man who was awaiting execution may not be responsible and the identity of the person who is, is brilliant and I certainly didn't see that coming.
The writing throughout is exquisite, full of emotion and probably one of the most powerful stories I have read in a very long while.
An absolute must read. I loved it.
Purchase Online From:
---
What did you think of 'The Necklace'? Share your thoughts in the comment section below!
---
The above links are affiliate links. I receive a very small percentage from each item you purchase via these link, which is at no extra cost to you. If you are thinking about purchasing the book, please think about using one of the links. All money received goes back into the blog and helps to keep it running. Thank you.
Like us on Facebook – Tweet us on Twitter – Pin us on Pinterest – Join us on Instagram