Unnatural Ends by Christopher Huang – Book Review
Unnatural Ends by Christopher Huang – Book Review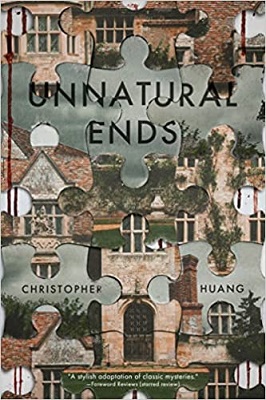 Unnatural Ends
Author – Christopher Huang
Publisher – Inkshares
Release Date – 5th July 2022
Pages – 402
ISBN 13 – 978-1950301065
Format – Paperback
Star Rating – 4
I received a free copy of this book.
This post contains affiliate links.

Synopsis
Sir Lawrence Linwood is dead. More accurately, he was murdered–savagely beaten to death in his own study with a mediaeval mace. The murder calls home his three adopted children: Alan, an archeologist; Roger, an engineer; and Caroline, a journalist. But his heirs soon find that his last testament contains a strange proviso–that his estate shall go to the heir who solves his murder.
To secure their future, each Linwood heir must now dig into the past. As their suspicion mounts–of each other and of peculiar strangers in the churchless town of Linwood Hollow–they come to suspect that the perpetrator lurks in the mysterious origins of their own birth.
When I read the blurb of this book I immediately thought it had Poirot vibes, who can beat a good murder mystery. However, although a murder mystery it was, the storyline felt very unique and not the least bit as expected. Recently, I have found a lot of thrillers/murder mystery books follow a very similar format but I can say this novel is different in a really good way.
The story focuses around the Linwood family, Sir Linwood who was murdered, Lady Linwood down beaten wife, and their adopted children Alan, Roger, and Caroline. The three heirs to the Linwood estate are tasked in Sir Linwood's will to discover who killed him and whoever completes the task first will become the sole heir. As is the case in most thrillers, things are not all they seem and secrets are slowly revealed throughout the Linwood children's investigations.
The first thing to say is that I was thoroughly hooked to this book, it managed to get me out of a reading slump and deeply engrossed in the 1920s. I was inside Linwood Hall watching the action as it happened.
The main things I enjoyed about this novel were that this novel uses dual narration with each chapter coming from a different person's viewpoint. This helps you to understand each character better and see how they all fit together and why events lead to where they are in the present. I loved all the characters in the novel, I felt they were very well developed and all had a part to play in the narrative- you don't always get this with thrillers!
The ending is very clever and it took me a long time to get myself to the point where I had an inkling of what was to come. When the big reveal did happen, I still thought that maybe there were more surprises to come, so I was still guessing what was going to happen all the way to the end.
If you are looking for a good old-fashioned murder mystery, this is it with sprinkles on top!
---
Purchase Online:
Christopher Huang

Christopher Huang grew up in Singapore, an only child in a family tree that expands dramatically sideways at his parents' generation. He moved to Canada after his National Service, studied architecture at McGill, and settled down in Montreal, apparently for good.
His first novel, A Gentleman's Murder, was named a 2018 Foreword INDIES Book of the Year and is in development for television. Unnatural Ends is his second novel.
Author Links:
---
Share your thoughts on Unnatural Ends in the comment section below!
---
The above links are affiliate links. I receive a very small percentage from each item you purchase via these links, which is at no extra cost to you. If you are thinking about purchasing the book, please think about using one of the links. All money received goes back into the blog and helps to keep it running. Thank you.