He Said/She Said by Erin Kelly – Book Review
He Said/She Said by Erin Kelly – Book Review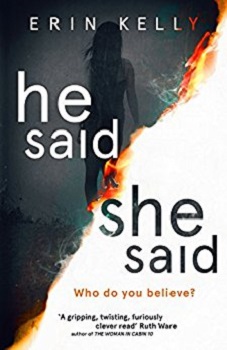 He Said/She Said
Author – Erin Kelly
Publisher – Hodder & Stoughton
Pages – 416
Released – 20th April 2017
ISBN-13 – 978-1444797152
Format – ebook, paperback, hardcover, audio
Reviewer – Stacey
I received a free copy of this book
Post contains affiliate links
In the hushed aftermath of a total eclipse, Laura witnesses a brutal attack.
She and her boyfriend Kit call the police, and in that moment, four lives change forever.
Fifteen years on, Laura and Kit live in fear. And while Laura knows she was right to speak out, she also knows that you can never see the whole picture: something is always hidden…something she never could have guessed.
Review
He Said/She Said, starts off in the present day and throughout has flashbacks to fifteen years ago when Laura witnesses a young woman being raped.
From the start (fifteen years later) you know that pregnant Laura and her partner Kit are scared of someone, but you don't know why. The mystery continues for most of the way through the book, and to be honest when the answer was revealed I was a little let down at waiting all that time for something that didn't seem worth it. Yes I understood why they were hiding, but I wanted something more explosive to be the answer.
The book at times felt forced and padded out with too much descriptiveness at what was in the surrounding area, or how one of the characters felt. I was interested in the story and at the start, captivated by the mysterious element of wondering why they would be so scared of someone, especially when you find out who, but not why. This did perk my interest, as I couldn't logically understand how that could be. As I said this went on for far too long, as the secrets were revealed very slowly.
The final chapters came with a massive twist to the book which surprised me as I was certainly not expecting it.
Erin's writing is superb. The jumping back and forth in time was done so that you knew exactly which time period you were in. Had there been more information earlier on I most likely would have enjoyed this book far more than I did. As it stands, it was a little dull until nearly everything was revealed. I found I was forcing myself to read it, rather than wanting to read it.
Reviewed by Stacey

---
About the Author
Erin Kelly was born in London in 1976 and grew up in Essex. She read English at Warwick University and has been working as a journalist since 1998.
She has written for newspapers including the The Sunday Times, The Sunday Telegraph, the Daily Mail and the Express and magazines including Red, Psychologies, Marie Claire, Elle and Cosmopolitan.






---