Street Siren by Tom Batt – Book Review
Street Siren by Tom Batt – Book Review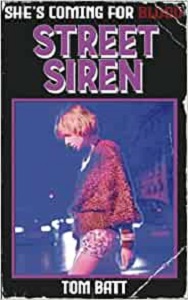 Street Siren
Author – Tom Batt
Release Date – 17th October 2022
Pages – 133
ISBN 13 – 979-8358721951
Format – ebook, paperback
Star Rating – 4.5
I received a free copy of this book.
This post contains affiliate links.

Synopsis
London, 1988
Young prostitute, Devlin Hunter is distraught when her best friend Roxy is found murdered, pushing her back into drug addiction. After a snuff film is uncovered depicting Roxy's death by a masked killer, the police struggle for leads.
Devlin stumbles upon a connection between the snuff film and a local adult entertainment studio and infiltrates the company by going undercover as an actress. She tracks down those responsible and seduces each of them before exacting her brutal revenge.
However, the police are soon on her trail and it becomes a race against time to kill them before she is caught herself.
I've had a three month break from reviewing books during which time I have read three of the great novels from the 20th century. Street Siren is hardly likely to reach that category but I thoroughly enjoyed the read and the return to the discipline of noting the details in preparation for a review.
I note that Tom Batt has written a number of screen plays and Street Siren has a TV feel about it. The story may be simple but the action is fast paced and I read the book in a short time. Could it have been longer than 133 pages? Some people may feel cheated. On the other hand we've all read books that have blatantly been padded to their disadvantage. Also, there is an argument that shorter volumes attract new readers and I'm all for that.
The length of the book and the subject matter suggested to me that Batt is looking to a younger audience. If that is the case it is interesting that he chose to set it in 1988. Older readers will appreciate the nostalgia of the 1980s when VCR and rental shops gave us our first opportunity to watch movies when we wanted. It also makes life easier for the author to work in a time where there were no mobile phones, no CCTV and less forensic science.
The character of Devlin I found interesting. She is a classic anti-hero who we should not approve of but she is very hard not to like. On the other hand, some of the villains are stereotypical and the portrayal of the young police officer strains credibility at times.
And yet, despite these few grumbles, it was entertaining and kept me amused. Near the end there was an unexpected revelation and as close to a good outcome as one could expect from such a storyline. I will be pleased to read more from Tom Batt and have awarded 4.5 stars.
---
Purchase Online:
Tom Batt

Tom Batt has been writing in a variety of formats such as screenplays and prose across multiple genres. He has several film credits to his name and found success in competitions. He began writing short stories as a hobby and decided it was time to share them with the world.
In August 2021 he published his first collection of short stories, Old Wounds: A Nick Shelby Case and Other Crime Stories to positive reviews, followed by a second collection, MindSpaces, in May 2022. In October 2022, he published the novella, Street Siren.
Author Links:
---
The above links are affiliate links. I receive a very small percentage from each item you purchase via these links, which is at no extra cost to you. If you are thinking about purchasing the book, please think about using one of the links. All money received goes back into the blog and helps to keep it running. Thank you.