Oswald Return of the King by Edoardo Albert – Book Review
Oswald Return of the King by Edoardo Albert – Book Review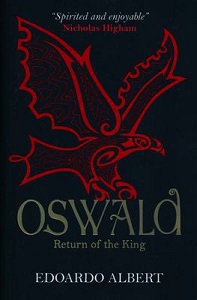 Oswald Return of the King
The Northumbrian Thrones Book Two
Author – Edoardo Albert
Publisher – Lion Fiction
Pages – 384
Release Date – 27th July 2015
Format – ebook, paperback
Reviewer – Rebecca
I received a free copy of this book
Post Contains Affiliate Links

The exiled family of King Aethelfrith of Northumbria arrive, after much hardship, on the island of Iona, where the monastery founded by St Columba has become a centre of worship and learning.
Young Oswald becomes firm friends with a novice, Aidan. When Aidan professes his final vows, Oswald and his little brother Oswy are received into the church. As befits a young prince, Oswald learns to fight. However, Aidan's example attacts him and he is on the point of deciding to become a monk when news reaches Iona that his half brother, Eanfrith, has been killed by Cadwallon, the king who defeated Edwin.
Oswald sails back to Northumbria and meets Cadwallon in battle, defeating and killing him. Oswald, now undisputed king of Northumbria, gives Aidan the island of Lindisfarne as his base. But Penda, the last great pagan king in England, is raising troops against him …

This is the second in Albert's series of Northumbrian kings, and it's a cracker. From the first paragraph to the last, I was totally hooked. It's one of those books you race through, and then have to slow down, because you don't want it to end.
The novel opens on the island of Iona where Oswald, a thoughtful young prince, is living peaceably in the monastery with his impetuous young brother Oswiu. A quietly spiritual man, Oswald is drawn to the monastic life, but his hopes of staying on the island are shattered when news reaches him that his half-brother, Eanfrith, has been killed by King Cadwallon. Family honour is now at stake, and a reluctant Oswald is persuaded to revenge Eanfrith's death and take the throne. Cadwallon is duly killed, and through no desire of his own, Oswald becomes the undisputed king of Northumbria.
And an extraordinary king he was. His idealism, his sense of justice and concern for the poor, his commitment to peace, marked him out as a giant among his peers. But kingship in those days was a poison chalice. Your lands, your riches, your people, were considered fair game by
neighbouring kings and nobles determined to extend their own land and power. Life was lived out against the constant threat of invasion, of battles and bloody skirmishes. Oswald himself was finally killed defending his kingdom, but not before he had brought peace and stability to a land once riven with violence, and made a huge contribution to the spread of Christianity.
This is the very best sort of historical novel because it's less about facts and more about people, their loves, their fears, their struggles for survival, for understanding and purpose, all sensitively imagined within the bounds of historical reality.
Right from the start, Albert introduces us to a whole range of richly drawn characters, including Bran, Oswald's pet raven, who was both talisman and protector. That Albert can make this relationship between man and bird – based as it is on an ancient myth – seem not just plausible, but hugely attractive, says much for his skills at story telling!
But what really marks Albert out, I think, as a quite extraordinary writer, is his ability to take us back in time to an era so utterly different from our own, and yet bring it so vividly alive that you almost feel you are living there yourself. We're talking here about the mid 600's. A time when the old pagan gods were still worshipped, when people's understanding of reality, of life and death, of the afterlife (largely horrendous) was rooted in myth and magic. An alien world to us now, and yet, in the context of this story, credible and real.
As were his descriptions of the landscape, in those days deeply wooded and, at times, darkly threatening. The author is so embedded in the mindset of the period that he manages to evoke a sense of hidden threat, of angry gods, of unseen spirits. He makes you feel as if you're walking alongside the characters, looking over your shoulder, alert, disquieted, unsure.
I also found his handling of the new converts understanding of Christianity particularly fascinating – how they misunderstood so many of the basic tenants of the faith, fluctuating, as many did, between their old gods, and the new.
Although Albert is a serious historian, you never once get the feeling you're being 'told' stuff. All his knowledge is expertly hidden behind the skills of a superb storyteller. I found this an exciting read. Normal life did not return for me until the last page had been read, and I found, with some relief, but a little nostalgia, that I was back in the twenty-first century.
Book Reviewed by Rebecca
Have a read of our review of Edoardo Albert's book Edwin: High King of Britain
Purchase Links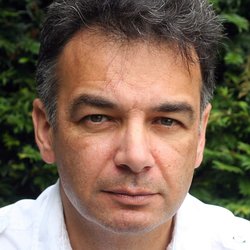 I am, on paper at least, a surprisingly exotic creature: Italian, Sinhala and Tamil by background, and growing up in London among the polyglot children of immigrants (it was only when I, finally, went to university that I actually got to know any English people). However, it's worth bearing in mind that the work of mine that produced the most extreme reaction in a reader was, in fact, a lonely-hearts ad.
The reader, a friend checking the ad for me, was reduced to a wheezing, helpless, tear-stained mess of hicoughing flesh, so uncontrollable was his laughter. This was not quite the reaction I had hoped for. One day, I hope to produce something to match that reaction, but preferably without acquiring a wife, as I later found one by slightly more conventional means.
You can find out more about Edoardo Albert by reading – The Writing Life of: Edoardo Albert'
Author Links