The Death Beat by Fiona Veitch Smith – Book Review
The Death Beat by Fiona Veitch Smith – Book Review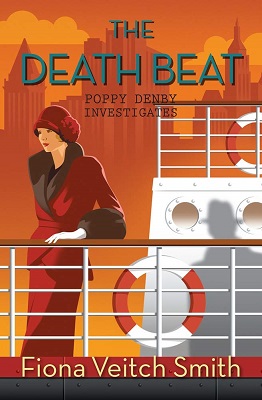 The Death Beat
Poppy Denby Investigates Book Three
Author – Fiona Veitch Smith
Publisher – Lion Fiction
Pages – 336
Released – 20th October 2017
ISBN-13 – 978-1782642473
Format – ebook, paperback, audio
Review by – Stacey
Rating – 5 Stars
I received a free copy of this book.
This post contains affiliate links.


Poppy looked up, her face pale, her hands shaking. "What is it, Poppy? " "Oh my, Rollo, oh my. I think we've just struck gold." Poppy Denby is furious with Rollo, who has gambled away his position at the Daily Globe and is being banished to New York. That is, until she discovers he plans to take her with him to work at the New York Times! Poppy can't wait to report on the Manhattan arts scene, but her hopes are crushed when she is allocated The Death Beat – writing obituaries.
But Poppy has a nose for a story, and when a body is found in a luxury penthouse apartment she starts to investigate. She unravels a sordid trail of illegal immigrants, forced labour, sex scandals, and an unexpected ghost from her past. Poppy is determined to help the victims, but can she find the evidence to bring the perpetrators to justice without putting her own life in danger…

London Newspaper Arts and Entertainment Editor Poppy is off to New York with her boss Rollo after he gambled away his position at The Daily Globe. They are to spend three months at the New York Times while the editor for the Times takes over at The Daily Globe. Going with them is Poppy's Aunt Dot and Poppy's best friend and actress Delilah Marconi.
Travelling in style on RMS Olympic the crossing is fairly plain sailing apart from Poppy having to help out with an emergency surgery on one of the crew members. However, their arrival in New York isn't quite so straightforward when it looks like someone has it out for the girls before they have even set foot on dry land.
Matters are made worse when it turns out Poppy isn't going to be covering the arts and entertainment for her stay but she is on the 'Death Beat', writing obituaries. But you can't keep Poppy Denby from smelling a good story, especially one of murder, fake identities, illegal immigration, sex-slaves, and forced labour.
The Death Beat is the third book in the Poppy Denby Investigates series set in the roaring twenties. If you haven't read any of the series, Poppy is a reporter for The Daily Globe, and whilst her job is to cover the art and entertainment she often finds herself in all kinds of precarious situations as she covers stories that are front-page newsworthy, almost getting herself killed in the process too.
I was eager to see what New York was like in the 1920s as it is a place I adore. I've also visited Ellis Island where RMS Olympic stops first on their travels to take off all the passengers who are to go through immigration. It is quite an eerie place these days and I can only imagine it was a scary place for those passengers back in the day, not knowing whether they had travelled on their long journey to the USA only to be sent straight back home when they were within touching distance of their final journey.
The book was entertaining and captivating. It covered some hard-hitting issues which are still relevant in today's society. Fiona Veitch Smith has certainly done a lot of research as you are transported to New York in a time when people were heading that way to get away from the war raging in Europe and looking for a better life, though that came at a price for some!
It was lovely to see Poppy step put of her comfort zone as well as trying to make sure she enjoyed her three-month stay and make the most of her time in New York, seeing the sights, tasting the American food, etc. There were also some real-life historical figures within the pages, including author Dorothy L. Sayers and actor Rudolph Valentino.
I would say that I am now looking forward to reading book four, but I've already read it – I missed this book out, but I can say I have book five and I am looking forward to continuing my journey with Poppy and the gang once again.
Book Reviewer – Stacey
---
Purchase online from:
---
About the Author

Formerly a journalist, Fiona Veitch Smith is a writer of books, theatre plays and screenplays.
Her children's picture books, the Young David series, are now published by SPCK Publishing. Her adult mystery series set in the 1920s, Poppy Denby Investigates, is published by Lion Fiction.
She lives with her husband, daughter and two dogs in Newcastle upon Tyne where she lectures in media and scriptwriting at the local universities. She loves gardening, eating cheesecake, practising Pilates and playing jazz clarinet – not all at the same time.




---
What did you think of The Death Beat? Share your thoughts in the comment section below!
---
The above links are affiliate links. I receive a very small percentage from each item you purchase via these link, which is at no extra cost to you. If you are thinking about purchasing the book, please think about using one of the links. All money received goes back into the blog and helps to keep it running. Thank you.
Like us on Facebook – Tweet us on Twitter – Pin us on Pinterest