Match Me if you Can by Michele Gorman – Book Review
Match Me if you Can by Michele Gorman – Book Review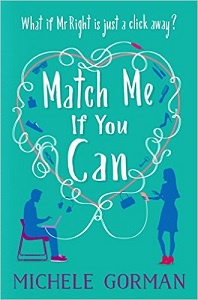 Match Me if you Can
Author – Michele Gorman
Publisher – Avon
Pages – 450
Release Date – 14th January 2016
Format – ebook, paperback, audio
Reviewer – Stacey
I received a free copy of this book
Post Contains Affiliate Links

What if Mr Right was just a click away?
Meet best friends Catherine, Rachel and Sarah.
Yet to find Mr Right, they've been settling for Mr Right Now.
But when Catherine, London's finest matchmaker, gets the girls to join her dating site where they can rate and recommend their ex-boyfriends, they soon realise that anything could happen . . .
There's someone for everyone, right? These best friends are about to find out for themselves!

04/05/2021 – I have recently discovered that the book now has a new title, so if you are looking for this book it is now called – 'The Boyfriend Tune-Up'.
Catherine, Sarah and Rachel are co-habiting best friends, with one thing in common, they are all down on their luck when it came to finding Mr. Right.
Catherine is a partner in an on-line dating agency – RecycLove, which she runs with her ex-husband Richard. Realising her friends predicament she persuades then to sign up to the site. There is a catch though, RecycLove, is all about recycling ex-partners so you have to sign up with an ex. You then have to evaluate one another and fill in a questionnaire showing the ex's strengths and weaknesses.
I Love Michele Gorman's books, so when I was contacted by her publishers to review her latest one, I jumped at the chance.
"Match Me if you Can", is an exciting and energetic novel that had me laughing in places, wincing in others and heart warmed all the way through. It is full of vibrant characters including many secondary characters that really brought the story to life.
Catherine is a straight talking business woman, who put her heart and sole into her business. Then her ex-husband, Richard sold his share of the business to his new, soon to be wife, and pregnant with his child, Magna and all hell broke loose.
Magna, is one of those characters that I could of strangled. She irked me and I could see straight through her from the start. This woman was sweet and innocent in front of Richard and a bitch behind his back, especially to Catherine.
Rachel is an architect working closely with her ex-boyfriend James. They are both competing for a big contract at work but are forced to work even closer together, when their boss wants them to collaborate their ideas.
For me Rachel was a hard character understand. I like her a lot, but I felt I didn't get to know her as well as I did the other two girls.
Sarah is the character that I liked the most. She is sweet, caring and good natured, though she lacks confidence, and due to a heart breaking event a few years ago, she has lost her way in this world, and seemed a little depressed.
She adores her little sister, Sissy, who has Down Syndrome and lives in a specialist home, 'Whispering Sands'. Sarah visited Sissy often and you could feel the love and concern she had for her throughout the book.
One of Sarah's passions is baking. It helped her escape the world and it is something she could put her heart and soul in to, welcome a very popular television show making an appearance.
Match Me if you Can is uplifting and witty, with quite a few serious and emotional undertones. It flowed naturally and I felt engaged and immersed in the plot and the characters right from the first to the last page.
A perfect book to lose yourself in.
Book reviewed by Stacey
A Marketing Evolution
Michele Gorman's latest novel is being reissued in the US with her original title and a brand new cover. Since changing titles after publication is fairly unusual in publishing, we thought you might like to hear a little bit about it.
When the UK distribution rights were sold to Avon (Harper Collins), the working title of the novel was 'Boyfriends Recycled' – it's about three best friends who recycle their exes in exchange for an upgrade (wouldn't that be fantastic in real life?!)
Publishers often change working titles to fit in better with the readers in their markets, and Avon felt that 'Match Me If You Can' was a better title for the UK, so we changed the title for the US too.
However the title has now been reverted back to it's original title in the US, and a new cover has been released.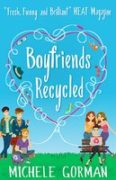 Michele writes books with heart and humour, full of best friends, girl power and, of course, love and romance. Call them beach books or summer reads, chick lit or romcom… readers and reviewers call them "feel good", "relatable" and "thought-provoking".
She is both a Sunday Times and a USA Today bestselling author, raised in the US and living in London. She is very fond of naps, ice cream and Richard Curtis films but objects to spiders and the word "portion".
I spend way too much time on Twitter and Facebook when I should be writing, so please come say hello.
Purchase Links
www.michelegorman.co.uk
www.michelegormanwriter.blogspot.com
Facebook
Instagram