Time Crawlers by Varun Sayal – Book Review
Time Crawlers by Varun Sayal – Book Review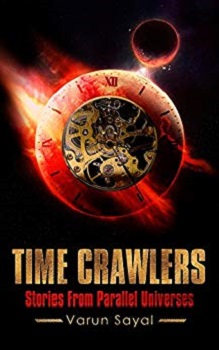 Time Crawlers
Author – Varun Sayal
Pages – 100
Released – 2nd July 2018
ISBN-13 – 978-1983180507
Format – ebook, paperback
Reviewer – Julie
Rating – 4 Stars
I received a free copy of this book.
This post contains affiliate links.
1. Nark-astra, The Hell Weapon: The weapons he possesses make him the destroyer of worlds, and he burns for revenge. A high-tech take on ancient Indian mythology.
2. Death by Crowd: The dark desires of the masses; darknet websites fueled by a crypto-currency. What lurks in the background – an advanced artificial intelligence?
3. Genie: He rubbed a lamp alright, but what he got was the shock of his life. An entirely sci-fi take on the djinn myth.
4. Time Crawlers: There are individuals who exist in multiple time periods at once, and there are those who know about them….
5. Eclipse: No attacks, no blood-shed, yet there was an invasion and a conquest. Who are these shapeshifter aliens being hounded by an eclipse?
6. The Cave: The fate of an advanced imperial race hangs in balance as a dark celestial entity meets a legendary protector.
'Time Crawlers' is the first offering from Varun Sayal. It consists of six diverse sci-fi stories, concentrating on parallel universes and artificial intelligence.
The short story format is I believe the most difficult discipline to write and indeed to review. There is little time for descriptions, scene setting, misdirection or character development, so the author is relying on immediate impact to engage the reader.
I enjoyed the mix of emotions along with the moral messages and the author's cynical sideswipe at aspects of our own world. I particularly liked the idea that the concept of magic is actually just unexplained science.
The first story 'Nark-Astra – The Hell Weapon'' is action-packed and sets the bar quite high for the subsequent tales. My particular favourite is the dark and disturbing 'Death by Crowd' as I fear just such a scenario could actually happen! After that, I appreciated the humour of 'The Genie' which is an excellent counterbalance to the previous story; definitely a salutary lesson in taking time to read terms and conditions before committing to anything!
Several of the stories are written in conversational format and read rather like a play script. This technique works reasonably well but the dialogue needs to be snappy to keep the reader's interest. One of the stories has similarities to a full length novel I reviewed last year, which was a shame because the twist would have been excellent if I hadn't come across it previously.
Varun Sayal has a vivid imagination and I think this collection of stories will appeal to its target audience. I confess to getting rather confused at times but overall enjoyed the book. At 100 pages it can be read in a couple of sittings. I think this author shows promise for the future and award four stars.
Reviewed by Julie
---
Purchase online from:
---
About the Author

VARUN SAYAL is an engineer and MBA who has been involved in theatre as a playwright, actor, and director, and has also been an independent movie-maker. His genre of writing is predominantly science fiction blended with mythology and a sprinkle of the gruesome actualities of life. In his own words:
"I live by the quote, 'a true art calms a disturbed mind and disturbs a calm mind.'"






---
The above links are affiliate links. I receive a very small percentage from each item you purchase via these link, which is at no extra cost to you. If you are thinking about purchasing the book via Amazon, please think about using one of the links. All money received goes back into the blog and helps to keep it running. Thank you.
Blog posts straight to email via Bloglovin – Like us on Facebook – Follow us on Twitter