Poppy's Recipe for Life by Heidi Swain – Cover Reveal
Poppy's Recipe for Life by Heidi Swain – Cover Reveal
Today we welcome author Heidi Swain with the cover reveal for her upcoming new book 'Poppy's Recipe for Life', which will be released on 30th May 2019. This post contains affiliate links.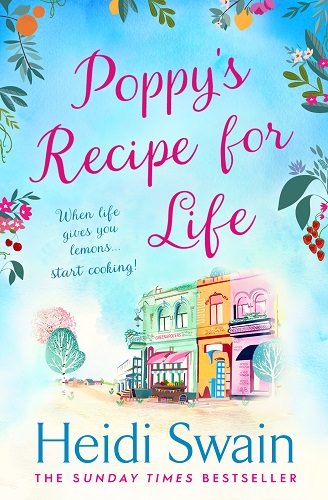 Poppy's Recipe for Life
Author – Heidi Swain
Publisher – Simon & Schuster UK
Pages – 432
Release Date – 30th May 2019
ISBN 13 – 978-1471174384
Format – ebook, paperback

Treat yourself to a glorious novel full of food, sunshine, friendship and love.
Things haven't always been straightforward in Poppy's life but her dreams are finally within her reach.
She's moving into a cottage in beautiful Nightingale Square, close to the local community garden, where she can indulge her passion for making preserves and pickles. She may not have the best relationship with her family but she is surrounded by loving friends, and feels sure that even her grumpy new neighbour, Jacob, has more to him than his steely exterior belies.
But the unexpected arrival of Poppy's troubled younger brother soon threatens her new-found happiness and as the garden team works together to win community space of the year, Poppy must decide where her priorities lie and what she is prepared to fight for …
---
Pre-Order Links

---


Although passionate about writing from an early age, Heidi Swain gained a degree in Literature, flirted briefly with a newspaper career, married and had two children before she finally plucked up the courage to join a creative writing class and take her literary ambitions seriously.
A lover of Galaxy bars, vintage paraphernalia and the odd bottle of fizz, she writes contemporary fiction and enjoys the company of a whole host of feisty female characters.
Heidi is now a Sunday Times Best-selling author who lives in stunning south Norfolk with her wonderful family and a mischievous cat called Storm.
Her debut novel, The Cherry Tree Cafe, was published on July 16th, 2015 and became an Amazon bestseller.




---
The above links are affiliate links. I receive a very small percentage from each item you purchase via these link, which is at no extra cost to you. If you are thinking about purchasing the book via Amazon, please think about using one of the links. All money received goes back into the blog and helps to keep it running. Thank you.